UPDATE: Battles for fortresses that didn't happen on Tuesday will take place today, on June 30th at 21:00. Make sure you apply for the battle!
Ancient fortresses Haldebor, Wind Rose and Kiyrite and Eridan have always been objects of interest for powerful clans of Ogriy and Khair. The best battle alliances have fought for the right to call themselves masters of a fortress as well as to use and benefit from the treasuries inside, even Sheara herself has many times been unseen witness of the fierce battles among the clans.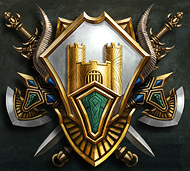 From now on, applications for participation in battle for any of the three fortresses can be filed in the Contenders' Hall, located in Spectral Expanse. Fights for fortresses will take part every Tuesday and Saturday. The fortresses can be visited within the next two days after capture.
The reward for capturing
each important point (two towers and a gate), and also for control over the entire fortress is the valuable
Phosphorite Dust and Celestial Dust
. For which warriors will be able to purchase from special shops
Teleport amulets
as well as
artful weapons.
Inside the fortress you'll be able to
heal traumas
and
remove negative effects
.
This week battles for fortresses are run in test mode!
Good luck!