Professional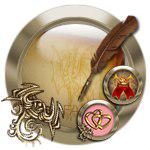 Friday, June 8th 2018, 11:32am
[PvP] Magic Storm
Weekly knowledge test: 08/06/2018-14/06/2018
What is the Magic Storm and when does it happen?
Post your answers here.
...................................................................................................................
For all who do not know the game yet some simple rules:
Every week (Friday morning) we publish one question to our game:
Legend. Legacy of the Dragons.

From all correct and complete answers up to 10 participants will win one promotional game code each.

The most detailed or unique answers have the biggest chance to win.

Copy and paste-answers will NOT be considered. Same goes for trolling or spamming or inadequate language.

Personal attacks on other players in your answers/posts as well will NOT be accepted.

Answer must be in English. You can answer in your mothertongue only if you post understandable translation in English in same post as your answer.

The winners will be chosen by a mixed team of magmars and humans. The decision will be final.

Codes will be sent to winners via private messages in the forum or per post ingame.

Good game and good luck for all!

Wanna get married?
Ask me to make your wedding fun and touching

Take part and win codes:
Weekly Knowledge Test
This post has been edited 1 times, last edit by "Aixlinn" (Jun 15th 2018, 7:49am)
---
Professional



Friday, June 8th 2018, 7:58pm
Magic Storm
Its a series of events that happens usually in the weekends and consist in a series of change to a specific battlefield.
They came after the april big
update
and consist in 4 big storms, each for every battlefield:
Magic storm in the Acient Temple

Each time you enter the Temple Battlefield you will receive 10
Gift of Power
blessings. These blessings will increase the HP, the strenght and in case of mages, your magical atributes.
One blessing is lost for each opponent who has received more damage from you than from any other participant, as a result of your fight won by your team (similar to the rules of trophy hunters reputation)
Full details
here
.
Magic storm in Tallaars Halls

Each time you enter the Tallaars Halls you will receive
Tallaar's Rage
. This effects gives you 100% immunity to stun from physical attacks and received physical damage does not decrease when you are in block (applied damage decreases same as before).
Full details
here
.
Magic storm in Crystalline Caves

Rules for this Storm impact the number of players, the total count of the point necesarry to win , aswell as the way points are earned and limits the total number of summons:
- The number of participants is changed from 9 to 6, and the count, instead of the usual 500, will go up to 300 victory points..
- The participants will receive 5 summoning crystals required to summon Wraiths at the entrance to the battlefield.
- Each dead enemy increases the score of the team by 5 points.
- For every 10 crystals that you hand over (irrespective of their color), a special blessing
Magical Charge
that is valid until the end of the battlefield is given to you. The effects of several such blessings are summed up.
- Crystals can be obtained not only in caves, but also abducted from an enemy base (the count of the enemy team does not decrease in this case).
Full details
here
.
Magical Storm in Chaotic Battles

Each time you enter the Chaotic battle, the participants will be able to touch the Sword of fallen hero in Scorched Lands. By touching the sword you will recive
Chaos Gift
wich can be a curse or a bless. Before the fight begins, it's impossible to find out which effect you got: bless or curse.
Players have the chance not to touch the Sword and play by the old rules, in wich case they will not have any bless or curse given by the Sword.
Full details
here
.
All the Magic Storms happends in the weekends and are announced in the game news. They may come with no-break and/or with double valour.
---

Saturday, June 9th 2018, 8:10am
Magical strom is the new thing introduced since the last update that could make you smile or potentially ruin your entire bf expierence XD

First one introduced was for Temples, where everyone get a stack of 10 buffs that gives you extra health and damage, and it gradually decreases as you win more battle

After temples we get the tallaar magic storm (my favorite!) And every player gets a buff that gave us 100% stun immunity and render blocking ineffective (although those who block still does decreased damage)

The magical storm in CC was a bit different; instead of getting only a blessing, the mechanic of aquiring crystals has changed. Designed for much quicker, points needed to win is decreased to 300 from 500, and the players required from 10 to 6-9 players. Similar to other bfs, you also get 5 summon tokens. Death of each player increases opposing side for 5 points and crystals are obtained at player's base instead of scattered throughout the cave. Every 10 crystals you hand in, you get a buff that decreases the damage done onto you and (increase because i heard reports that there is error in the description) decrease the damage you deal

The magical storm in chaotic battle is a HUGE gamble, by touching the sword during the instance, there is a chance to buff you significantly with hp, damage, or heal efficiancy, OR the opposite of said by a huge amount. You can also be smart and not touch the stupid sword too but where is the fun in that XD
---

Monday, June 11th 2018, 8:03pm
Magic storm events change and upgrade standard battlefields rules

BASIC INFORMATION
- Magic storm start usually on Friday (wait for specific info in news)
- Magic storm upgrade rules in one chossen battlefield
- Enjoy Magic storm whole weekend

MAGIC STORM - TEMPLE
You dont like if you make less than 100 damage per hit and want make more - enjoy this temple storm event
If you enter Temple you get 10x Gift of power blessing - every give you +800 strenght, vitality, wisdom.
But take care - you can lose one blessing for each opponent who has received more damage from you than from any other participant (if result of fight is victory on your side).

Result: Good event, but not so good like others. I give 7/10 points

MAGIC STORM - TALLARS HALLS
Do you think that your opponents stuning you much more than you stunning them? You hate opponents in block - enjoy this event
With Tallars rage blessing (you get automatic in Tallars) its not important for your damage if opponent in block or not and .... stun not work :o)

Result: Perfect event, much more faster Tallars. I give 10/10 points

MAGIC STORM - CRYSTALLINE CAVES
This game has thousands players but its problem (for 6+ levels) find 9 players on both side to start caves.
This magic storm update rules of CC a lot
1. only 6 players need (not 9)
2. for win need 300 points (not 500)
3. points not only for loading crystals. Victory in fight gives 5 points
4. each player get 5 crystals for summoning wraiths
5. for each 10 crystals loading in base player gets special blessing - reduce damage for 15%

Result: Amazing items, thanks I can enter CC after years. Unfortunately only on weekend. I give 10/10 points

MAGIC STORM - CHAOTIC BATTLE
You dont have luck in events or bandit? Try your luck in chaotic :o)
If you touch sword in chaotic (its clickable item in left side of main chaotic screen), you get one of blessing:
1. +65% damage
2, +50% maximum hit points
3. +50% healing effects efficiency
4. -50% damage
5. -33% maximum hit points
6. -50% healing effects efficiency

You dont need touch sword = nothing changed on you

Result: I did 3 battles and got 1., 4. and 2. blessing. I give 8/10 points

In every event can be bonus like non-break, more valor points.

I hope more players found this event great and join battlefields.
---
Intermediate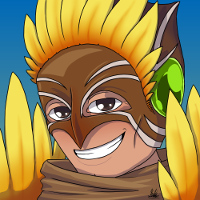 Tuesday, June 12th 2018, 7:40pm
The magic storm is a fickle beast that floats around and smothers our favourite locations, the battlefields, instating new rules in them and granting non-break and double valour. I postulate that it has a pretty exhausting 9 to 5 job during the week as it only shows up on the weekends. So far we've had the magic storm in the Temple of Chosen, Crystalline Caves, Chaotic Battlefield and Tallaar's Halls. The magic storm can also visit the Plateau of Silence and the Arena, but it hasn't yet decided to.
In the temple, one gains 10 buffs and becomes a super saiyan but loses one for every foe defeated. Evens things out a lot and means you can't just slaughter the enemy repeatedly, pretty neat.
In the caves, summons that aren't limited to weekly use can be called at most 5 times, the maximum player count is reduced from 9 players per team to 6 players per team, the score to win is reduced from 500 to 300, handing 10 crystals in to your base grants you a strong buff, and you can pilfer crystals from the opposing base (at a much faster rate than basic collecting of crystals). So many changes and all are nice, adds up to making caves quite fun.
In chaotics, one has the option to risk it all and become a powerhouse or become a useless chain ball for their team by clicking the sword in location screen before the battle starts. I never clicked the sword so I don't have much experience using it, but I sure saw a lot of people get screwed by it.
In tallaar, stuns due to physical blows are non-existent and blocking is ineffective. Sure didn't affect me a whole lot, but it made people queue so fine by me.
The plateau (maybe it affects ancient plateau too, idk) and arena magic storms haven't occured yet, but I recall reading that the plateau one involves making negative effects unusable, and that at the very least makes it a lot more attractive. I look forward to seeing them in the next couple weeks

---
Intermediate


Location: Spain - Valencia
Occupation: Doctor

Thursday, June 14th 2018, 11:37pm
It's an special event done in the weekends, to do more battlefields with special bonus, like double valour, no stun, bless/hex, etc

There are different types, for each battlefield that we are speaking about:

tallar, cc, arena, temple, chaotic or plateau.

Great events, quite fun.

Cheers.
Magmar Consecrator

Italian

Spanish

English

---
Professional


Thursday, June 14th 2018, 11:43pm
Magic Storm is a special event of valour:

There are different events, one for each BF with different rules and they often happens on weekends.
Here are some info about the various rules:

- Amazing increased valour (All BF)
- Limit for the summons (Cave of crystals)
- Reduces points to finish the instance and less players required to start it (Cave of crystals)
- Buff to get increased damage and be on pair with top levels with a system of losing and gaining buffs (Temple)
- Ipothetical malus or bonus getting at the start of the battle like a flame (Chaotic)
- More and more features coming in future
404 not found
---