Professional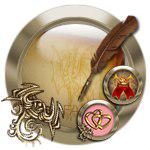 Friday, March 29th 2019, 8:55am
[REPUTATION] Setting priorities
Weekly knowledge test: 29/03-04/04/2019
There is reputations you cannot raise at the same time. Which ones are those? And which of them would be your first choice to do and why?
Post your answers here.
...................................................................................................................
For all who do not know the game yet some simple rules:
Every week (Friday morning) we publish one question to our game:
Legend. Legacy of the Dragons.

From all correct and complete answers up to

5 participants

will win one promotional game code each.


Only complete and detailed answers will be rewarded. If there is more than 5 detailed and complete answers the most unique answers have the biggest chance to win.



Copy and paste-answers will NOT be considered. Same goes for trolling or spamming or inadequate language.

Personal attacks on other players in your answers/posts as well will NOT be accepted.

Answer must be in English. You can answer in your mothertongue only if you post understandable translation in English in same post as your answer.

The winners will be chosen by a mixed team of magmars and humans. The decision will be final.

Codes will be sent to winners via private messages in the forum or per post ingame.

Good game and good luck for all!

Wanna get married?
Ask me to make your wedding fun and touching

Take part and win codes:
Weekly Knowledge Test
This post has been edited 1 times, last edit by "Aixlinn" (Apr 5th 2019, 8:12am)
---
Professional

Location: Nilfgaard
Occupation: Emperor

Friday, March 29th 2019, 3:32pm
1) Bringers of Evil - Brotherhood of Virtue

2) Goddess Aladeya - God of the Cursed and the Dead
3) Nymph Water God - Sylph Air God
4) Zurkhass - Miuri Tao
5) Night Stealers - Red Axes/Stone Lotuses
6) Eldives - Kroffdors

These are the reputations and their rival reputations in the game.

Personally I would start with: Brotherhood of Virtue, Goddess Aladeya, Nymph Water God, Miuri Tao, Red Axes, Eldives.

The reason behind this start is simple: It's easier and it's always better for beginners. The players who start with bringers of evil have a strong headstart with black dragon elixir, shurikens and all the other negative effects, however players who start with Brotherhood of Virtue will simply have access to more blessings, therefore making the warrior levels a lot easier for them, plus having a chance to gather resources for Black Dragon elixirs in the future.

Goddess Aladeya simply restores hitpoints of a player when it kicks in in a fight, so why not? More hp=more one can stay in a fight and more damage then can deal.

Nymph Water God is the same reason as Goddess Aladeya. It restores mana so the players can deal more damage.

Miuri Tao gives the player a chance to sustain some hp back which segways into my next point: staying alive is more important than restoring mana.

Red Axes quests are, in general, easier and simpler than Night Stealers when compared. Therefore it'd be a good start, then switching over to Night Stealers when it's finished.

Last but not least, Eldives. Kroffdors have physical barriers and eldives have magic barriers. So starting with Eldive reputation, then switching over to Kroffdors when finished is a lot better in my opinion.

However, players can start whatever reputation they want, this is just my strategy.
I am not those men! I am Salahaddin.
---

Saturday, March 30th 2019, 12:02am
1. BoV/ BoE:
I chose the BoE reputation first because I think it is the hardest to obtain, so it will be a challenge for me but when I get it it will be easier to obtain the BoV's reputation, I also think it is more useful some accessories that use the BoV as the skull to heal wounds. For that reason I would do them in that order.

2.Night Stealers/ Red Axes:
Really for both reputations I do not see an order that is more favorable, it is the same for me to start with one or the other. However, I started with the reputation of the red axes because of the attractiveness of the symbol and because it was the counterpart of the stone lotus (opposing race). Then, I continued with the night robbers that is the same in both races.

3.Goddess Aladeya/ God of cursed
4.Nymph Water/ Sylph Air
5.Eldives/ Kroffdor
6.Zurkhass/ Miuri
I have not had an experience with the latter (3-6), but if I had to choose one before the other, I would choose 3. Dios de malditos, since I like to do evil first and good after (lol), in 4 .Sylph Air, since I prefer the air element. In 5. kroffdor by his form and by the most striking medal and in 6. Miuri.


---
Professional



Sunday, March 31st 2019, 10:23pm
BOV vs. BOE


Available at lvl5
Start with BOV. Use only eyes to create the emanations and save the skulls for BOE.
By the time you will collect the eyes to finish the BOV, you will have the skulls for your next BOE.
Night Stealers vs.

Stone Lotus /

Red Axes



Available at lvl4 (red medal can be obtained at lvl5)
Either of them. The quest are identical as dificulty. Some require killing quest mobs, some hunting or superbeeings and some to get the mercenaries different ressources.
Goddess Aladeya vs. God of the Cursed and the Dead
Available at lvl7
If youre geo, start with God, then the Goddess. The first requires lvl7 stones. The last, lvl8 dusted stones*
If youre herbo, start with Goddess, then God. The first requires lvl8 plants. The last, lvl8 collected plants**
If youre fisherman, start with Goddess, then God. The first requires lvl7 fish. The last, lvl8 fish*
*in case you want one medal at lvl7 and one at lvl8
**plants are easy to offer than collected.
Nymph Water God vs. Sylphius Air Goddess
Available at lvl11
Regarding ressources, both require same level of ressources so either of them can be started first.
Idealy to start with Nymph because it restores mana and that can give a good advantage in fghts.
Eldives vs. Kroffdors


Available at lvl11
Better start with Kroffdor cause I find the easier to kill than Eldives. Since you will have to kill these mobs when u fisrts start as mage, you will not be that experienced with killing mobs that use magic.
Zurhass vs. Miuri Tao
Available at lvl16
Miuri Tao would be ideal cause it offers more battle survivability.
---