Snow is still falling everywhere around Faeo, the long season of cold and darkness is not yet over! Now is your last chance to equip yourself with the special items you need in winter at the special Wondrous Winter Trade Fair. The weather might be cold, but that will not prevent your enemies to engage you in hot battles: A weekend of fighting in the battlefields is lying ahead of you with events that are soon to be announced! Don't miss the Winter Trade Fair in the

Outskirts of Klesva and the

Valley of Fire.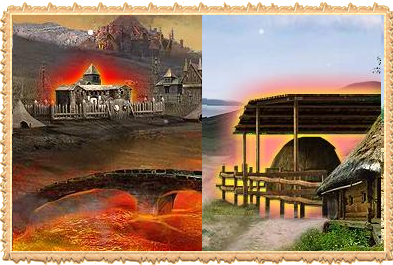 You love pets? But you don't want one of the ordinary pets? How about calling a little snowman or a snow wolf cub your own and being able to get help from them in battle? Go to the Trade Fair, you will be able to find these very special pets there!
You have an enemy in Faeo? Create an almost immovable ball and chain which is attached to the leg of your victim with the brand new
Scroll of Death Row Ball and Chain Magic
. On the other hand you can also protect yourself against Ball and Chains with the
Scroll of Ball and Chain Protection Magic
. Or would you like to place a Kmarsha-Ola blessing on a player? Buy a
Scroll of Kmarsha-Ola Magic
. This is only a small selection of the great scrolls you will find at the Trade Fair.

Of course you can still get the famous presents at the Trade Fair. Buy yourself one of the presents and find a surprise inside!

Those who love making others happy by giving gifts will appreciate this trade fair! Would you like a miniature copy of your capital? Or do you enjoy the new Underwater World? Then a Sharker Statue would be the right gift for you. And of course there are many more new gifts!


And that's not all you can find at the Trade Fair, make sure you don't miss it!

The Winter Trade Fair is open from Friday, January 28, 10:00 Faeo time until Tuesday February 1. It will take place in the

Outskirts of Klesva and in the

Valley of Fire.