2.3. Settings
Dear visitor, welcome to Legend: Legacy of the Dragons Forum. If this is your first visit here, please read the Help. It explains in detail how this page works. To use all features of this page, you should consider registering. Please use the registration form, to register here or read more information about the registration process. If you are already registered, please login here.
2.3. Settings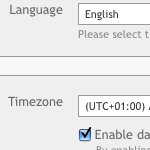 Settings
Under Edit Profile » Settings you can choose from several options to make the use of this page comfortable for you.
Next to general settings - e.g. your timezone - you will find options for privacy, communication and display. Please note that these settings just apply to your account.