Diamonds, that shine under the rays of Mirrow, are rightfully considered to be the most valuable currency of the world of Faeo. Warriors with the handful of diamonds can open many doors, and tradesmen will be glad to offer rarest goods. Now you can receive valuable and important goods for the mere fact of purchasing diamonds, without actually spending them!


1-st
Payment
7-th
Payment
2-nd
Payment
8-th
Payment4
3-rd
Payment1

3

3

3

9-th
Payment

15

15

30




50

50

4-th
Payment2
10-th
Payment5
5-th
Payment

1500

11-th
Payment
6-th
Payment3
12-th
Payment
Warriors! Starting from today and
till July 31st
when purchasing diamonds, during the special offer, you will receive gifts! There are
12 valuable gifts
, which you will
receive one by one for each

100 you buy
.
IMPORTANT!
You can now do that in
multiple purchases
- your reward will unlock after the sum of your purchases is greater than 100! After receiving one prize, you will receive the next one after purchasing another 100 diamonds in total.
Remember that you don't have to spend the diamonds to get the rewards!
Hurry - this offer is limited in time!
Brave warriors! Again it is time for exciting battles: 7 forgotten heroes are back on the battlefields. It is you who will have to help them!

Warriors
, the
Dungeons of the Forgotten Heroes Reputation Reward Shop
is now available to you! You can find it from the Warlords

Gidver
and

Damirus
.
In addition, we have listened to your feedback and significantly
increased
the
amount of Valor
that is given out for the victory. Don't forget to give us your opinion and keep an eye on further updates!
July is the best time for gathering the sweetest fruit and berries. Gardens of Faeo have ripe apples, honey pears, sweet raspberries and
Magic Cherry
.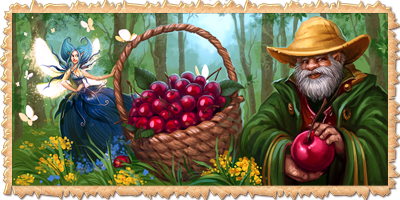 This amazing fruit of cherry tree is endowed with magic charms and can instantly restore a warrior's life force and mana that have been lost during combat.

Humans
and

Magmars
love Magic Cherry not only for its taste though, but also for Cherry Stones that are left afterwards. If you take a good aim you can strike a nice stone right in the middle of a tiresome opponent's forehead, who has a sense of humour and is able to appreciate such a joke.
More information about
Magic Cherry
whereabounts can be collected at

Leolina the Fairy
, who lives near
Communal Grave
, and

Serafim the Gnome
, who resides at
the Mines
.
Citizens of Faeo, who weren't asleep for some reason this night could witness a strange glow in the sky near Chion Mountains. It was the Festive Organiser trying out his fireworks for the big celebration to determine what colors are missing.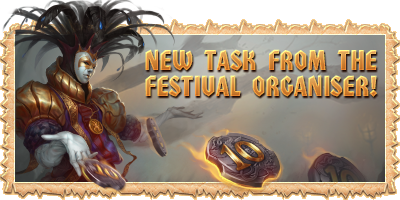 Battle mages have come to the help of brave warriors once again! From
16:00 Friday, July 14th
and till
12:00 Monday, July 17th
your armor and weapons
won't break
in battles at
Plateau of Silence
and you
will receive 100% more valour
for
winning in Great Battles
there.
Lift up your spirits – make every battle bring you victory!
Diamonds – are a very sought-after currency that lets any warrior purchase unique and valuable goods.

Defenders of

Ogriy and

Khair! You have a unique opportunity to purchase
Certificate for 50 diamonds
and
Certificate for 100 diamonds
in the
Premium Shop
. Bankers don't want to sell with a loss and will have a commission from every sale, thus the
cost of each certificate is – 135 and 65 diamonds
. Bankers won't sell more than
5 certificates in one hands
. City authorities already announced that you would be able to
sell these certificates on Auction and Exchange.
Pay attention!
Power Leveling Thresholds
are not applied when selling diamond certificates:
seller sets a price according to the demand on the item.
Card collectors should also pay a visit to the

Premium shop
where they will find a
Set of 60 Conlegret cards
Sometimes in order to sell something at a good price,
one has to purchase something at a good price - good luck!
Warriors of Faeo! City tradesmen announced the start of yet another sale in the Premium shop, you can purchase various goods for very special price!
Merchants have decided to drop prices for items that are selling for

diamonds
and you can also now
buy huge packs
of resources
with massive discounts
!
Hurry up, the sale will last
till July 17th
!
From time to time the people of Faeo witness a unique and fairy occasion of Star Shower. The night sky illuminated only by the starlight is pierced by fiery meteors, leaving a sparkling trail. You just can't miss it!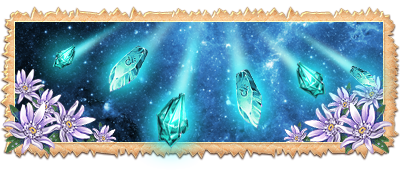 During this time the citizens and villagers know no sleep and rest - they go out in the streets having pinned Asters flowers that shine in dark to their lapels they enjoy the spectacular show.
It is the time of Star Showers in Faeo!
Warriors, the merchants have just opened doors to the private sale! Let's have a look at what they have to offer.

A reworked version of Dormant Ring of Shadow Seeking is in the store: from now on this ring won't require shadows for use and will grant you an ability to receive a powerful blessing that will help you farm shadows more effeciently. By using this ring you will be able to every day for 1 hour have a chance to drop shadows from farming monsters anywhere in Faeo! But keep in mind that those monsters need to be from level 11 and can only be 1 level below yours. If you already bought your ring at the previous sale these new features should be applied to it automatically.

Warriors! We have analysed data and the feedback we got from you on the time tables for battlefields that we have introduced earlier and are ready to announce further changes for Battlefields of Equals, Tallaar Halls and Meridian Vaults time tables.

Check out the
new schedule
! But keep in mind that we are still ironing things out and will wait for more of your feedback to make things more convenient for you.
Fight and win! Send us your feedback in the game or post it here in the comments!

Preparation for the festive fireworks in honor of the decade continues.
The enchanted fireworks, thankfully obtained by the dedicated continents' defenders, wait for their time to blow the night Faeo sky in millions of flickering flashes.
The Festival Organiser needs a wide variety of warrior qualities and emotions – in fact, as is known, they will serve as charges for the anniversary fireworks display.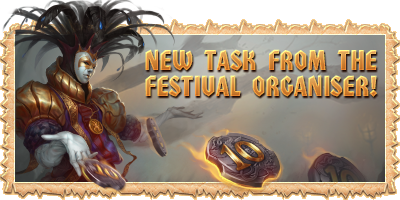 Battles are never too much! In this weekend even the warlords of

Ogriy
and

Khair
call the warriors to take part in the
Chaotic Battles
. Remain strong and in full force - your weapons and armors will stand against any attack because in this battles
they are not threatened by any breakings
. Fight for victory - winnres in Chaotic battles
will receive double valor!
Get up your spirit – let every battle bring you victory!