Warriors
! Bankers of

English
,

German
and

Polish
servers have decided to join their forces and offer you something
special
. For a limited time only purchase
Diamonds
and get
15% extra
of the amount you buy!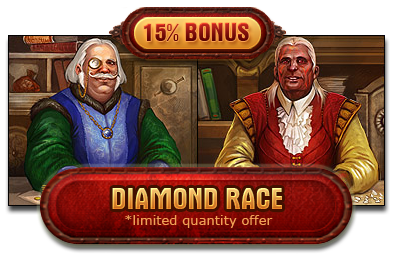 Many of the inhabitants of Faeo have found ritual coins scattered all around the world, and are pondering with horror the reason for their sudden appearance and what troubles await them this time.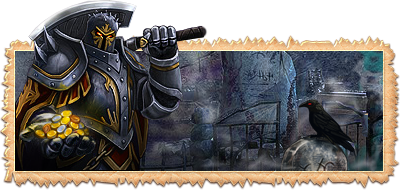 Brave Warriors! Citizens of

Ogriy and

Khair are not able to find out the cause of the appearance of the liche coins . Faeo is in need of your protection and help!
As the coins found are somehow connected to the burial ritual and the world of the dead, we recommend you visit Shiko the Paladin, a famed fighter of the undead.
Good luck!
- More info about the event in Game Library
Warriors
! Merchants have put up for sale
Especially Precious
and
Precious Forged Trunks
and cordially invite all of you to purchase these unique goods at
City Fairs
of

Dartrong
and

O'Delvays
!
You can find many usefull things at the bottom of these coffers and trunks: Certificates, Amulets of Summon and War Mage Amulet, Encased Chess Figures, Combat Potions and other valuable goods.
Hurry! Coffers and Trunks will be available till 16:00 November 6th!
Defenders of Faeo, trust your fate - you won't be disappointed! Buy especially precious trunks and receive valuable and usefull goods! May the contents of the coffers help you on your way to new victories and deeds!
Brave warriors of Faeo!
October was very saturated with events and interesting tasks for you to complete. As usual, you did a great job.
The event «October — Nightmare Week» has come to its end, now we invite you to visit a shop with event rewards at the City Fairs
, which you will be able to purchase with Wooden Pumpkin.
Pay attention to a card for Conlegret game from the new event deck. After the end of each monly event you'll be able to collect cards like this and by the end of the year become the owner of full card set.
If you don't have enough
Wooden Pumpkin
visit shops at

Chigrik's
and

Gloum's
! These enterprising contrabandists have special
October Bag
on the bottom of which you will find
Wooden Pumpkin
.
You can purchase these bags both for

gold
and for

diamonds
but you'll be able to buy them
one time only for each currency
.
Hurry to the event reward shop Warriors!
Warriors of

Ogriy
and

Khair
! We are glad to announce the
upcoming changes in the World of Faeo
, the most important of them is the introduction of the
new Premium Account
. Let's have a look at its main features.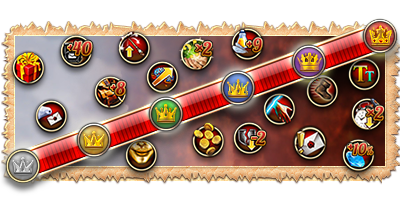 In order to get a Premium Account
, you'll have to use one of the two ways:
either exchange rubies, or diamonds
. Thus, you won't have to spend money on purchasing a Premium Account – you'll receive Premium as a reward for the exchange itself. Please note that you can find
rubies in Reward Casket, which is a reward for completing «Activities».
Click on "More", to continue reading!
Wheel of Fortune
- is a gift that promises wealth and fortune, but its inconstancy is similar to that of the four winds! Are you ready to challenge the spirits of luck?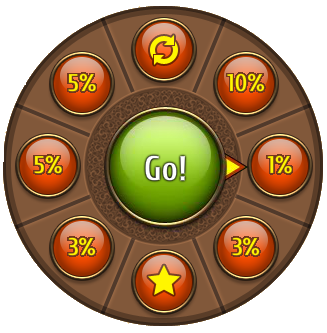 Turn the Wheel of Fortune, warriors! Receive bonuses to your diamonds purchases!
You'll be able to use the bonus within 24 hours after you receive it. Wheel of Fortune will be operating till October 29th 14:00:00
Swirling above disturbed graves and moaning wildly, cemetery ghosts are making promises of dreadful fun for the vile undead, who are gazing at them with their empty eye sockets and stretching their bones after lying still for so long in the damp ground. Skeletons, zombies, bodiless spirits and other representatives of the dark forces will not want to miss a chance to run the show in Faeo and scare its inhabitants during Nightmare Week. The locals however, fearfully await the Night of the Grinning Pumpkin and hope that charms and brave warriors will be able to protect them from the mischief of the undead.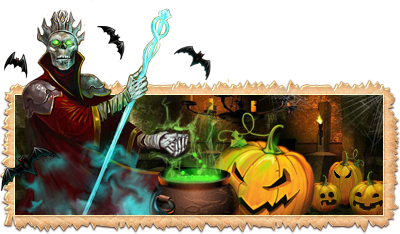 Warriors! Travelling Gnomes couldn't miss our grand celebration and are back again! They have already been spotted at the City Fairs with their treasures that they are willing to sell to you! Come quick to see what they have got for you! City Fairs are already full of people!
Warriors of Faeo! The wondrous time we all have been waiting for has come: grand celebrations dedicated to the 8th birthday of Legend begins! Organizers of the celebration did their best to make everything possible for warriors to find tasks according to their liking and have lots of fun.


What awaits you during celebratory days? Log in to the game from 19 through 25 of October, in order to receive a unique achievement, as during this time celebration will take place. A special anniversary lottery will be held on 26 of October.
Warriors
! Mistress of the Dragons
Sheara
has decided to reward

Humans
and

Magmars
and dedicates a special
event
to the
Dragons
, who are always on guard and support the warriors in times of hardship.