What is that unusual noise that is heard on the Trade Fairs of both capitals? A squeak of bend wood, melodious sound of bow-string, a whistle of flying bows… No, that is not the exchange of fire with the enemy, that is customers trying out newly arrived goods. Christmas Fair has started in the World of Faeo!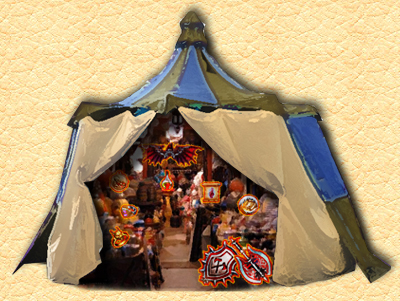 Tradesmen have brought legendary («red») bows and quivers for any styles and warriors of different level. With such weapons any beast, bird, demonic being or even two-legged foe will become your prey!
Red Weapons and Armor are back!
Estate owners, pay attention to
Second Wind Elixir
, which will bring the counter of energy back to zero.
Don't miss
Quick Access Scroll
, which will let you enter a selected instance once again without waiting. A fine addition to that will be
Great Collector's Casket
and of course
Twilight Casket
.
Great news for those warriors, who will reach level 18 soon: you will be able to purchase a chest with with a full set of amulets and bracelets with a great discount!
You will also find numerous items that will help you in fights agains your enemies
That was just a glimpse of what is available at this fair. By the way, Fair's assortment may be updated right before Christmas celebration!
From now on for each

50, spent on purchases at the Fair, you will receive
Ludial Chain Link
as a gift. Please note that

1.00 is counted as

1

50.
And one more thing, the well-known One-Armed Bandit is operational again starting from today! Test your luck and try to win the Jackpot and become the richest person in all of Faeo!
Enjoy the fair, warriors!