There are still several months before the celebration of the 10th Anniversary, but the Festival Organiser is already closely involved in the preparation and he even announced one of the main surprises of the celebration – magnificent fireworks. The inhabitants of Faeo are awaiting the unprecedented beauty spectacle: the world's night sky to be illuminated by breathtaking multicolored flashes. It is no secret that the charges for the salute will be enchanted with the magic qualities and emotions that overwhelm the hearts of warriors during the battles..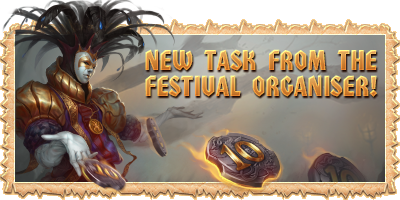 Fearless warriors! The Festival Organiser has the next challange – fights at the legendary battlefields of Faeo! Taking part at the Crystalline Caves, Temple, Arena, Meridian Vault or Tallaar Halls, you will be able to charge the magic amulet with Bitterness after defeating your opponents. And your items won't break in battle there!
The Festival Organiser
is waiting for volunteers
at the City Fair grounds of

Dartrong or

О'Delvays
in order to complete the task «A War Trophy for the Tenth Anniversary: Bitterness of defeat».
You will be able to start the quest

from April 21st till

12:00 April 24

. Organizer accepts charged amulets till

till 12:00 April 27

.
All the quests of the series «A War Trophy for the Tenth Anniversary» are available for warriors from level 3, after completing the quest «The Missing Guest».


Successful battles and bloody victories to all!