The Festival Organizer is alarmed in earnest as a new uninvited guest appeared in the Elfin Sanctuary. Apparently, this is another thug from a mysterious gang of bandits, which can ruin Faeo's anniversary celebration. It seems that they do not care about the losses and are not going to give up their secret intentions!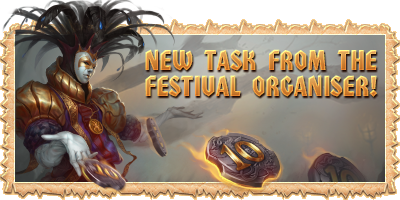 The Organizer encourages brave warriors to leave all other matters behind and prepare for another campaign to the dark vaults of the Dark Elves former possessions. This time the attacker lurked in some of the rooms next to the Hidden Room. Where exactly? You'll have to find out yourselves. And do not forget to take four reliable comrades with you, otherwise you will not be able to defeat such a dangerous enemy!
The «Ain't No Rest For The Robbers» quest is intended for those warriors that have reached level 3 and finished the «Where The Robbers Are Hiding» quest. After finishing it, the «Enemy In A Dark Room» quest will become availble once every day.
Attention!

The «Secret Sanctuary» instance is available once every 4 hours.
Even if you visited the instance with a group to help other warriors, you will be able to return to the «Secret Sanctuary» to complete the «Ain't No Rest For The Robbers» and «Enemy In A Dark Room» quests only after the specified timeframe has passed!
List of all tasks and events, regarding the 10th Anniversary, can be found on the special promotional page.