Are you up for a new challenge?

Jesters invite you to take part on their version of Last one is the winner!

Five threads will be opened at the same time in our forum. Each thread closes at a different time. You will find the five closing time below, but you will not know which thread closes at what time. The last one who posted a valid entry in each thread will win 20x Talent Coin which can be exchanged in the Jester's Shops in the City Fairs for valuable items.
Closing times:
Date 10.07.2020 Time 08:57 Server time
Date 11.07.2020 Time 17:39 Server time
Date 11.07.2020 Time 19:21 Server time
Date 12.07.2020 Time 11:11 Server time
Date 12.07.2020 Time 22:48 Server time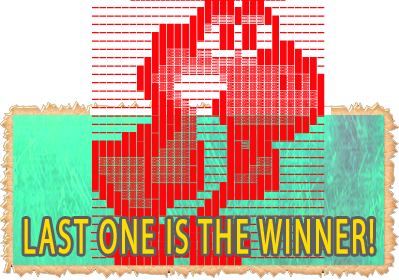 Rules are simple:
Only players from level 3 and without curses for game violations can post.
Only entries showing an image in ASCII-Format will count.
Make sure you do not post any image which is already posted in this thread.
Spam posts will be deleted and the spammer may be disqualified from this and the following three events.
You may post only 5 times in total per thread.
Check out our forum and try your luck!