The elders that restlessly observe the

Well of Fortune and

Mouth of Fortune in the continents' capitals brought good news to the people of Faeo. They found out that now and then the fire in the bottomless split burns brighter than usual, while the calm water of the well is covered by impenetrable fog.

Since 01.08 11:00

everyone who throws

1
,

5
,

1
or

5 in the altars of the fate, might attract the attention of the higher forces and receive quite a real reward: ranging from regular elixirs to unique armor.
Also. during this event, when donating

gold coins
or

precious stones
to the gods, the following bonuses shall apply:

Don't miss the moment when Luck Glow shines over Faeo!
Valiant warriors! Mages of Faeo, while closely studying the phenomenon of sporadic storms in different parts of the world, found out that a similar
storm is about to break out in the Crystalline Caves!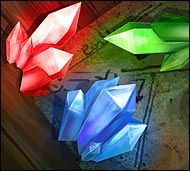 Additionally, the changes that the storm will introduce into the usual rules of this battlefield have been revealed! So you now have time to pepare.

You will also have double valor and no-break during the Magical Storm in Crystalline Caves!
Will you have the courage to enter the vaults of the Crystalline Caves during the Magical Storm when the time comes?