Greetings, warrior!
Let's talk about runes.
Runes are magic stones which can be built into armour items to improve their attributes. You can purchase the runes at auction or directly from a Jeweller. You can even make yourself if you are a Jeweller with the relevant skill level. There are currently five types of rune: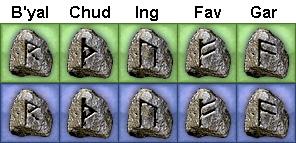 Each of the runes can be built into a specific type of armour:
B'yal
– Armour (Cuirass)
Chud
– Pauldrons
Ing
– Shirts (Chainmail Shirts)
Fav
– Weapon (Primary)
Gar
– Weapon (Auxiliary)
Once you have decided which piece of armour you want to buy a rune for, you need to choose the rune which corresponds to your level and armour set. You can use the table below to help you. Find your armour set in the first column and its style in the first row. Then look where the column and the row meet to find out which rune you need.
Set

Set style

Dodger

Bonecrusher

Heavyweight

Twilight
Executioner
Mammoth

Nothern Wind
Anger
Slayer of Giants

Wind

Hurricane

Fury

Destruction

Protection

Stone

Unicorn
Retribution
Dark Mountain

Sky

Lightning

Power

Strength

Steadfastness

Absorption
So, for example, you have the Anger set and want to build a rune into your pauldrons. Looking at the list above, we can see pauldron runes are known as Chud. Knowing the Anger set is bonecrusher, we look for where Anger and Bonecrusher cross on the table: Fury and Destruction. Thus, for Anger pauldrons, we need either the Rune of Destruction Chud or the Rune of Fury Chud.
Now you have the correct rune, all you have to do is build it into your chosen item. To do that, find the rune in your backpack and move your mouse cursor over it. A green button will appear on the rune image. Click it.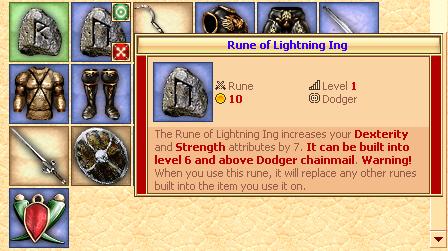 If you do not have a suitable piece of armour into which the rune can be built, you will see the following message: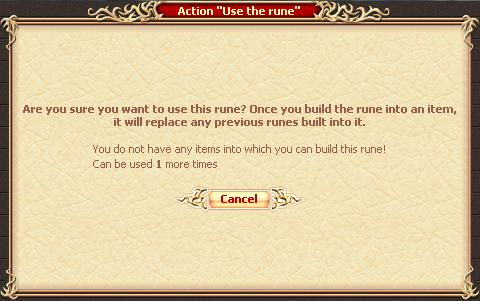 If you do have a suitable piece of armour, a window will appear showing you the choice of suitable items that you have. All you have to do then is click "Confirm" and the rune will be built into the item.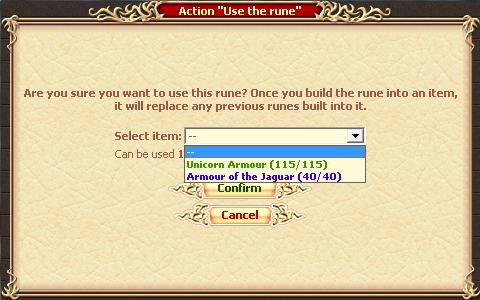 You can check that the rune has been built in by moving your mouse cursor over the armour item. You will see in the item description the name of any rune built into it plus its effect on the item's attributes.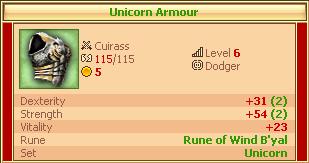 And that's all you need to know about runes, young warrior. Good luck!