Diamonds – are a very sought-after currency that lets any warrior purchase unique and valuable goods.

Defenders of

Ogriy and

Khair! You have a unique opportunity to purchase
Certificate for 50 diamonds
and
Certificate for 100 diamonds
in the
Premium Shop
. Bankers don't want to sell with a loss and will have a commission from every sale, thus the
cost of each certificate is – 120 and 60 diamonds
. Bankers won't sell more than
5 certificates in one hands
. City authorities already announced that you would be able to
sell these certificates on Auction and Exchange.
Pay attention!
Power Leveling Thresholds
are not applied when selling diamond certificates:
seller sets a price according to the demand on the item.
Card collectors should also pay a visit to the

Premium shop
where they will find a
Set of 60 Conlegret cards
Sometimes in order to sell something at a good price,
one has to purchase something at a good price - good luck!
Woken up by the first rays of Mirrow the farmer was just about to look out of the window to admire his wheat fields goldening in the morning light. But a gust of wind made room in thick rows of grain and unearthed a mysterious symbol on the ground instantly making the farmer's skin crawl.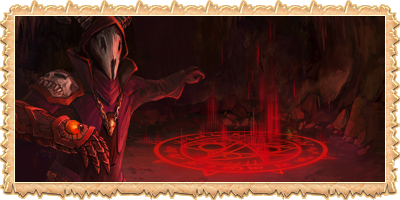 An ominous pentagram looked almost alive and as if it was reaching its dark spidery limbs to the farmer's shabby house. Without hesitation the farmer put on his boots and a worn down jacket and set out to the Capital to tell the Elders about what's going on.
Warriors, take part in the fate of Faeo! This won't be an easy fight! A new stage of the event awaits!
Warriors
! Merchants have put up for sale
Especially Precious
and
Precious Forged Trunks
and cordially invite all of you to purchase these unique goods at
City Fairs
of

Dartrong
and

O'Delvays
!
You can find many useful things at the bottom of these coffers and trunks: Certificates, Amulets of Summon and War Mage Amulet, Encased Chess Figures, Combat Potions and other valuable goods.
Other than ordinary chests you can purchase -
Ten-Fold Precious Trunk
! It gifts you same amount of prizes as 10 Especially Precious chests, hence the
chanse to get a rare prize is 10 times higher!
You can now spend less time, instead of opening 10 chests you can open only one - save your energy and your mouse's durability!
Moreover, in each of such chests you will find one of the horseshoes
(if, of course, you don't already have maximum amount of horseshoes of such type). Furthermore, there is a
special offer
-
12
of such chests can be purchased with a
17% discount
!
What is more, from now on for the participation in the event you can additionally get -
Lucky Cerrador Statuette
.
Attention
, this statuette is not a prize, with a certain probability it can be given to you in addition to the prize. If you collect 6 statuettes your can craft
Magic Lasso
. This magical lasso will help you catch and tame a
true mount of the world of Faeo
. Cerrador
,
Scorpolion
,
Restless Dzerug
,
Ice Bear
,
Fierce Pkhadd
- any of these mount can become yours, you can choose which one.
ATTENTION: Merchants sell different chests both with and without Merchant Marks this time!
Hurry! Coffers and Trunks will be available till June 9th, 12:00 server time!
Defenders of Faeo, trust your fate - you won't be disappointed! Buy especially precious trunks and receive valuable and useful goods! May the contents of the coffers help you on your way to new victories and deeds!
Great time has come for those who like making great deals on the lands of

Ogriy
and

Khair
. Soon both continents will be filled with overseas goods;
the Great Trading Journey has started!


Galash the Merchant
and

Squire Voldemar
are getting their ships ready to sail. Help fill their holds with different gifts of nature from your continent,
and the merchants will reward you generously with their IOUs.
When the travelers are back you will be able to exchange IOUs for the goods they will have brought with them. You haven't seen goods like that before!
Participants of the Trading Journey won't be disappointed! You will be greatly rewarded once the ships will return to the ports!
Warriors
! For a limited time only bankers of the world of Faeo are offering you a
very generous payment bonus
. Purchase

50,

150 or

300 and receive more than 100%
in bonus items!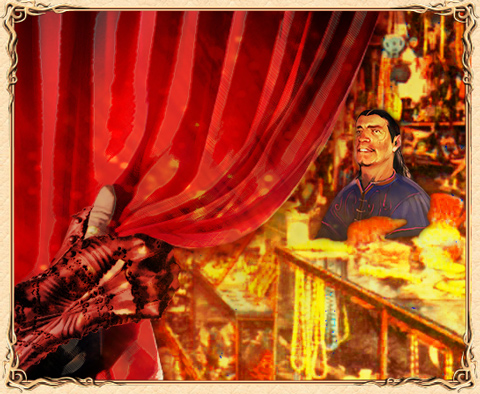 IMPORTANT: You will be able to receive payment bonus one time only!
Bankers' offer will last till June 12th, 12:00 Faeo time.
Make sure that you purchase diamonds by that time!

Citizens of the Capitals and guests who are travelling there from all over Faeo to celebrate the jubilee are in for another surprise from the Festival Organizer. He decided to decorate the streets of Capitals with beatiful strings of lights that will light up with warm golden glow every street and every corner of the cities so the festival celebrations can go all night.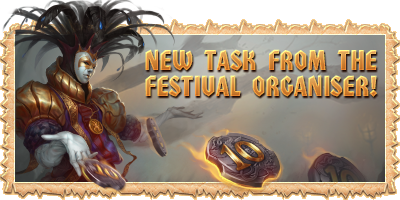 Brave warriors! The festival organizer has a new task for you!
Fill up the streets of your city with magical lights!
Warriors! Mistress of the Dragons Sheara has decided to bless all warriors who go to the Tallaar's Halls this weekend!
Queue up for Tallaar's Halls starting from today June 2nd, 13:00 Faeo time and your items will not break in case of the defeat in Tallaar's Halls till June 5th, 12:00 and you will receive doulbe valor!
New trouble is brewing in the lands of Faeo! Mysterious seeds that were planted by the evil forces have started blooming. From the swollen purple seeds gigantic disgusting tentacles are now sprawling out onto the light, as if a giant underground creature have released thousands of wriggling sprouts.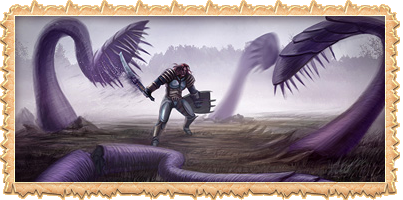 Horrendous tentacles are viciously attacking unwary travelers and careless citizens of Faeo, who are falling victims to the fatal embrace of these enormous sprouts. Brave protectors of the world of Faeo! You must defend your lands from this evil by any cost! Elders

Baguron and

Verkiry await your help in the Capitals.
Come forward to help Faeo! This will not be an easy fight!
New stage of this massive event awaits you!
The elders that restlessly observe the

Well of Fortune and

Mouth of Fortune in the continents' capitals brought good news to the people of Faeo. They found out that now and then the fire in the bottomless split burns brighter than usual, while the calm water of the well is covered by impenetrable fog.

During this time everyone who throws

10,

100 or

1
in the altars of the fate, can attract the attention of the higher forces and receive quite a real reward: ranging from regular elixirs to unique armor.
Having named this miracle Luck Glow, the elders encourage the warriors
to seize the opportunity to get valuable gifts!
Don't miss the moment when Luck Glow shines over Faeo!
Brave Warriors! It is time for even young warriors to be able to challenge themselves and bring fame to their clans!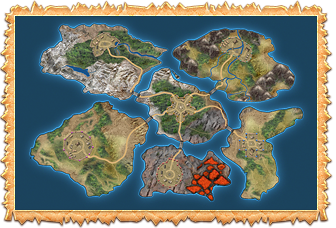 The first

season of Clan Wars for Junior League
has started!
Pay attention to the changes!


It is time to show what your clan can do!
Let the strongest clan win!