Warriors, the
One-Armed Bandit
will be in operation again from
Wednesday,January 15, 14:00 Faeo time
for your amusement. It disgorges mounds of

Gold
coins right into the hands of the lucky winners. Winnings clink in players' pockets, and superstitious players hold firmly onto their lucky charms. It goes without saying that, although this game is risky, it is great fun – all the warriors have been caught up in the gambling fever.
You can try to win the jackpot wherever you are
, the one-armed bandit
can be reached from every location
!
But who knows when Lady Luck will smile on them? She is very capricious – sometimes she showers the fortunate with her gifts, while at other times she can take the last copper coin from a poor wretch. To protect you from large losses the One-Armed Bandit has been configured to only accept large bets when you have sufficient money in your wallet to live well. In other words,
the more

gold you have clinking in your pocket, the more money you can bet
, so as to win big! But the opposite is also true: If a warrior's wallet has been empty for a long time, the machine will only allow him to place a small bet. This means that his loss will be smaller if he does not win.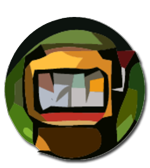 Bankers are not usually regarded as very generous but
Forint
is clearly an exception! Enjoying the sunny weather he is an an excellent mood and so he gives
a present to every warrior who obtains Diamonds
- even if you get yourself as little as
9
Diamonds.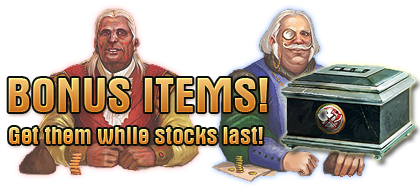 And here you can find the great presents you will get when obtaining Diamonds:
| | | |
| --- | --- | --- |
| | Bonus Items | |

Payment of at least:

Bonus

9
13
22
27



45

2x


75
3x


90

4x


150
3x
300
5x
You receive the listed items for each payment of at least the amount in the list from
Monday, January 13, 12:00 Faeo time
until
Tuesday, January 14, 22:00 Faeo time
.
Warriors, Sheara has decided that it is time for a new: Happy Hours in the Tallaar Halls! Come and fight and show your bravery!


Warriors from
level 7, enter the Tallaar Halls on Friday, 14:00 Faeo time until Monday 09:00 Faeo time
! Crossing the threshold you will be possessed with a thirst for destruction and go berserk, losing the ability to differentiate between your own and other species, and capable only of thinking how to spill the blood of others.
If you enter the Tallaar Halls during this period of time you will receive bonus Valor for each fight.

Warriors of the
levels 3-6
will receive
double Valor
for each finished
Arena
during this period of time.

In the Tallaar Halls you will receive double Valor for each victorious fight, in the Arena you will receive bonus Valor for finishing the instance.
A good fisherman will keep striving! Yesterday, he was catching small trout from the local rivers, but today he has set his sights on the rarest of Faeo fish - the Golden Orfe! But it is not easy to catch such a fish: it is no wonder that even experienced fishermen just throw up their hands trying to outwit the nimble fish.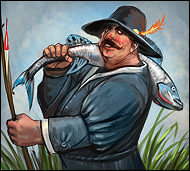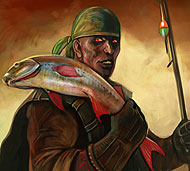 The Orfe disappears into the depths as soon as a fishing line hits the water, or hides amid shoals of Habus - those tasty but rather simple-minded fishes... It is not often that local warriors get a chance to touch the golden scales of an Orfe and even rarer for them to be able to tell their friends about such an unprecedented catch!
It is difficult to imagine something that could really upset the mild herbologist. However, the seeker of rare plants is very worked up over the demise of his family treasure, the Golden Clover. This rarest of flowers was found by his great grandfather and has since then been grown by the family and considered the greatest of treasures. But, alas, the herbologist was unable to look after his inheritance. He was responsible for the flower withering – and the herb gatherer is beside himself with grief!
The herbologist needs to be cheered up, otherwise the inhabitants of Faeo will be left without herb collections, fresh bouquets and marvellous berries. If you have reached level 10, take on this challenge and try and find another sample of this wonderful flower. There are plenty of difficulties ahead: the Golden Clover is almost imperceptible to humans and magmars. But can anything really stand in the way of a real hero?
For a true geologist the value of the minerals they find are not in their cost but their uniqueness. The best geologists are renowned for their skill in finding the rarest minerals in all sorts of different places around the world, but no geologist can consider themselves a professional until they have discovered a real gold nugget. Only the most dedicated possess the knowledge and secrets that will help find the sparkling thread amid the darkness of mountain caves, leading to the cherished gold nugget.
The time has come for warriors that possess the skills of a geologist to test those skills and confirm their natural talent for discovering minerals.
Just recently, the Elders arranged for the sought-after, precious chests to be sold at the City Fair in order to ensure more security. But all these efforts seem to have been in vain, since once again a whole delivery of precious chests just disappeared without a trace. But wait a minute... did they really just disappear without a trace? Maybe one or other of the monsters pinched a few chests? You might be able to get a chest by defeating a monster of your own level! At least the Elders are satisfied that the mysterious chests are still locked, so nobody can get at the content. Unless someone finds out where the keys are…


Who would not like to ride around on a Scorpolion or a Cerrador ? Who never dreams of finding a certificate, which can be easily exchanged for a purple tool or even a red weapon? Which rogue could help you find the keys?
Warriors of Faeo, the order of the
Underground Knights
invites you to take part in a new cave tournament from
Friday January 3 at 14:00 Faeo time
till
Sunday January 5 at 22:30 Faeo time
. So, warriors, get ready for the bloody battles! Sharpen your weapons and improve your skills to win a good amount of Valor at the weekend!
To get into the cave tournament use the battlefield button and select Cave Tournament. Participants will have to queue in order to get into the battlefield. Each group fights against warriors of their own level group. The groups are level 3 and 4, level 5 and 6, level 7 and 8, level 9 and 10, level 11 and 12, level 13 and 14 and level 15. Players are grouped in teams of 25.


This time Cave Tournament is for everyone! All ranks can join anytime.The participation is free!

While the respectable citizens of Ogriy and Khair are fast asleep, crooks are busy at work under the cover of darkness, going unnoticed as they haul bags filled to the brim with artefacts back to their hideouts. The following day, word of the new goods that have appeared on the Black Market spreads through Faeo like wildfire.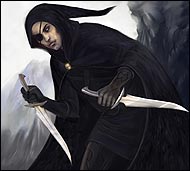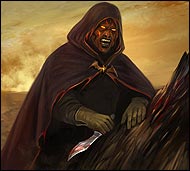 Rumour has it that

Gloum
and

Chigrik
have gotten hold of a multitude of rare items, ranging from dwarven treasures to the hearts of mighty Kroffdors and Eldives, which players could use to increase their reputation. Some even claim that items which used to belong to
General UyarrMO
himself are among the spoils!
Traditions and customs have always held a special place in the lives of Faeo inhabitants. Ancient stories and legends have been passed down by word of mouth about powerful spirits helping ordinary people cope with important matters and protecting them against hardships.
Humans and
magmars greatly revere their guardians and make it a point to thank and glorify them. But as the saying goes, even a good marksman may miss! Well, someone did forget to follow the old tradition and show respect for the spirits with gifts and to give thanks for a generous harvest and rich booty. Being the touchy and wilful creatures that they are, the spirits were rather quick to punish the negligent inhabitants of Faeo with a series of misfortunes and disasters.