Banks of

Ogriy
and

Khair
value and love their clients, because mutual respect is the foundation on which beneficial to both parties relations are built! Anyone who
trades in diamonds
will have a pleasant surprise...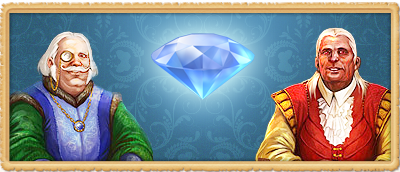 With a
one-time

20
diamonds for

gold
exchange in the bank you will receive an additional reward! Hurry up! After all, bankers can change their minds...
There will be enough gifts for everyone!
With the first April days the most reckless celebration starts in the World of Faeo - Joke week. Hurry to take part in it and earn lots of Snide Cat tokens.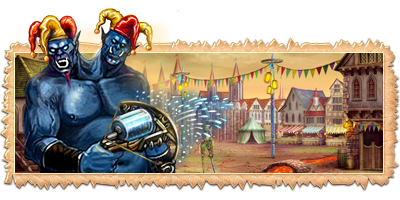 Scholars

Globius
and

Avelius
won't be disturbed by silly things, instead they'll offer you to use their new invention
Sprayer
, which will come in handy in joke battles
Have fun, Warriors!
The elders that restlessly observe the

Well of Fortune and

Mouth of Fortune in the continents' capitals brought good news to the people of Faeo. They found out that now and then the fire in the bottomless split burns brighter than usual, while the calm water of the well is covered by impenetrable fog.

During this time everyone who throws

1
,

5
,

1
or

5 in the altars of the fate, might attract the attention of the higher forces and receive quite a real reward: ranging from regular elixirs to unique armor.
You can find out more by reading the full news.

Diamonds
, that shine under the rays of Mirrow, are rightfully considered to be the most valuable currency of the world of Faeo. Warriors with the handful of diamonds can open many doors, and tradesmen will be glad to offer rarest goods.
Now you can receive valuable and important goods for the mere fact of purchasing diamonds, without actually spending them!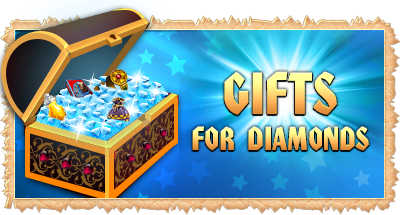 Warriors! Starting from today and
till
15.04, 12:00
when purchasing diamonds, during the special offer, you will receive gifts! There are
10 valuable gifts
, which you will
receive one by one for each

100 you buy.
Hurry - this offer is limited in time!


April's fools week!

This week the

Jesters are giving you the opportunity to Player vs. Player race in our April's fools week in our forum. Every day of this week there will be riddles, puzzles and other brain teasers challenging you to solve them within in 30 minutes after being posted.

But …



On your marks … get set … ASK!
Mages of Faeo haven't yet finished investigating the magic storms in different parts of the world, when a similar storm has already broken out on Ancient Plateau and Plateau of Silence!
The only, but very significant change that the storm has brought into the
usual battle rules on the Ancient Plateau and the Plateau of Silence
is the
inability to use most of the negative effects on the enemies
in the above mentioned battlefields! But if one already has a negative effect on their character, it will not prevent them from visiting these!
Restrictions on purchases were reset! You can now purchase all items again! The price of Elixir of Speed has been reduced.

Ready to meet the changed rules fully armed?
Will you have enough courage?


Defenders of

Ogriy and

Khair!
Merchants has decided to updated their Fair's assortment!
Results for the clan contest "Show us your clan" and our single contest "No one has to be alone"

And here are our winners...

Thank you to all participants!

Jesters present the most important Headlines around Faeo!

Find out what is happening in the World of Faeo in our latest edition of

Jesters Delight Edition 03/2019



Enjoy the lecture!

Defenders of

Ogriy and

Khair!
Merchants have decided to update their Fair's assortment! All buying restrictions have also been reset, so you can purchase goods again!
Pay attention to new goods!
The fair will last until March
28th

, 12:00
.