Warriors
! Bankers of

English
,

German
and

Polish
servers have decided to join their forces and offer you something
special
. For a limited time only purchase
Diamonds
and get
15% extra
of the amount you buy!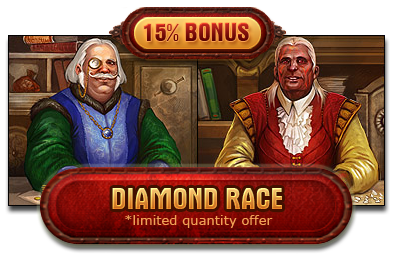 Warriors
! Mistress of the Dragons
Sheara
has decided to reward

Humans
and

Magmars
and dedicates a special
event
to the
Dragons
, who are always on guard and support the warriors in times of hardship.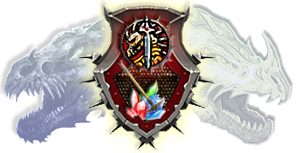 Great news for warriors of Faeo, who were about to purchase diamonds for their accounts! From 17:30, April 15 till 23:59, April 17 when purchasing diamonds, you'll receive caskets, full of useful content. You'll be able to find runes for your tools, Sid speed Elements and unique bezels, which will increase chance of obtaining resources.
Caskets differ: the more diamonds you purchase, the more valuable casket you'll receive thus the greater items you will be able to find inside.
Important! In order to participate in the event you'll have to purchase diamonds only through Bank. Diamonds borrowed from the Banker will not be counted. Caskets are given only for purchasing diamonds, you don't have to exchange them for gold!
Hurry warriors, duration time of the event is limited!
Warriors, look at Faeo, your home! You will notice something that you have never seen before, something even more dangerous than everything you have ever faced in this world. Enormous, repulsive and terrifying seeds are covering the ground all over Faeo! Bloated by dark magic, these gigantic seeds are full of the powers of evil. You can feel their corrupting energy which affects

Humans and

Magmars alike.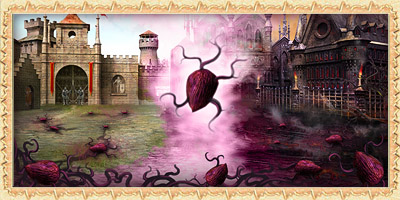 Terrible danger looms upon us and if nothing is done the world as you know it will be doomed to fall! Elders

Baguron and

Verkiry will need your help stopping the end of the world and are waiting for you in the Capitals.

Dear Players!
From now on registration of
new characters
in the game
Legend: Legacy of the Dragons
will be even easier. When registering a new character you will be able to sign up with

My.com
.

Remember
that you will still be able to sign up with popular social networks:

Facebook
,

Twitter
and

Google Plus
.
Attention! Login process for existing accounts remains unchanged.
Brave warriors of Faeo! March was very saturated with events and interesting tasks for you to complete. As usual, you did a great job.
The event «April - Don't be no fool!» has come to its end, now we invite you to visit a shop with event rewards at the City Fairs
, which you will be able to purchase with
Snide Cat token
s
.
Pay attention to a card for Conlegret game from the new event deck. After the end of each monly event you'll be able to collect cards like this and by the end of the year become the owner of full card set.
If you don't have enough
Snide Cat token
s
, visit shops at

Chigrik's
and

Gloum's
! These enterprising contrabandists have special
April Bag
s
, on the bottom of which you will find
Snide Cat token
s
.
You can purchase these bags both for

gold
and for

diamonds
but you'll be able to buy them
one time only for each currency
.
Hurry to the event reward shop Warriors!
Path to the kingdom of doubles and reflections was reputed to be blocked by the surface of mirrors. Yet now heavenly bodies are positioned in a special way, that the boundaries are no longer sealed!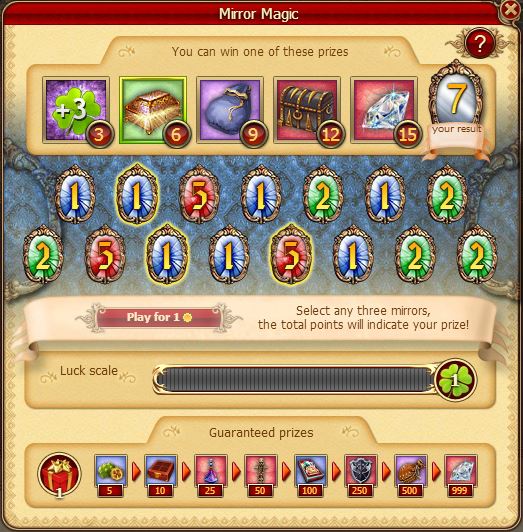 This rare opportunity was instantly used by mirror-world spirits, who want to own all gold in the world. Don't be afraid of hostile invasion though - spirits will only offer warriors to play a game. When you pay one gold, you'll be able to receive one of the many valuable items, from the mirror-world, or even amazing artefact, that couldn't be obtained in any other way.

Hurry and test your luck warriors! Event «Mirror Magic» doesn't last forever!
Warriors
! Mistress of the Dragons
Sheara
has decided to reward

Humans
and

Magmars
and dedicates a special
event
to the
Dragons
, who are always on guard and support the warriors in times of hardship.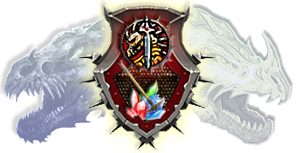 With the first April days the most reckless celebration starts in the World of Faeo - Joke week. From April 1st till April 8th the week of jokes and tricks will last. Hurry to take part in it and earn lots of Snide Cat tokens.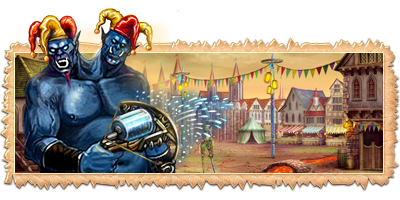 Many citizens of Faeo will be able to help you have fun during this week.
Two-headed giant
, who doesn't loose his childish set of mind with age,
will be happy if you bring him his dolls and in return he will give you sweets.
Scholars

Globius
and

Avelius
won't be disturbed by silly things.

Cardsharp
and

Poker
will be glad to trick others.
Unexpected guests from different continents,

Sheamus
and

Nadilarie
, have a stack of magical Trumpets.
They will help enchanted warriors to catch crickets and collect web
, whick

Ralf
and

Pete
, need to organize
cricket races.
For completion of event quests you'll receive
new achievements
and
Snide Cat token
s
.
Have fun, Warriors!
UPDATE: Gnomes have updated the assortment of their trade fair, come and see what is new! What is more, some people say that gnomes will close their fair tomorrow, so make sure that you purchase everything you need by that time.
Warriors! The travelling Gnomes are back again! They were spotted at the City Fairs with their treasures that they are willing to sell to you! Come quick to see what they have got for you!