Celebrating the anniversary of Faeo
passed its culmination, but the end is still far! Begin the
sixth day of celebrations
– keep the speed, warriors!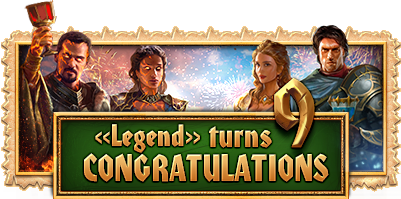 The Festival Organiser
again needs your help. All this weekend
battles in the Tallaar's Halls will not be limited to the usual schedule.
It's time to rush to the gates of the the dark temple, especially that
during the celebration your equipment does not break, and the injuries will heal immediately after the battle.
Sixth day of celebration - sixth level of the Organizer's blessing
. Don't forget that at the end of the celebration
grand lottery
awaits you.
We continue to celebrate, warriors! Congratulations for Faeo's anniversary!
The celebratons of «Faeo's»
anniversary are now heating up –
with the Fifth day of celebrations
. This is the culmination of fun,
the middle of the marathon of pleasant surprises and joyful events!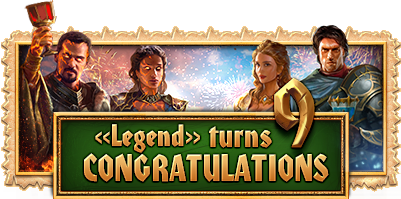 The Festival Organiser
is awaiting for you with a new task.
The Festival Organiser will grant you a level 5 b
lessing
.
We congratulate you on the 9th anniversary of Faeo!
4th day of anniversary celebration promises to be as saturated and enticing as the first three!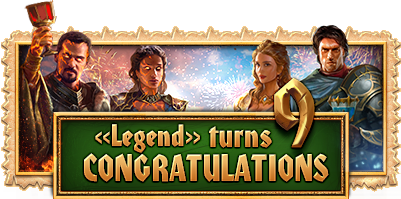 Festival organizer has prepared a new task for you. Festival organizer will gift you a level 4 blessing

Happy anniversary warriors!
Warriors
! Bankers of

English
,

German
and

Polish
servers have decided to join their forces and offer you something
special
. For a limited time only purchase
Diamonds
and get
20% extra
of the amount you buy!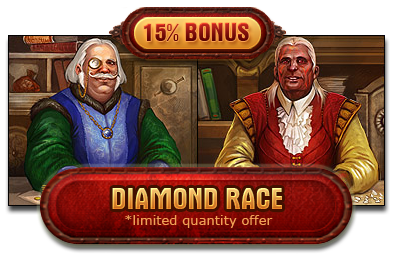 Brave defenders of Faeo! The third day of 9th anniversary celebration starts today. Both continents are cheering – don't stay aside!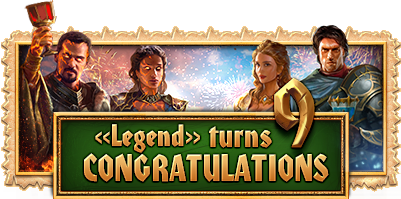 Festival organizer prepared a new task for you. If you successfully complete it – you will receive a unique style weapon. Festival organizer also has a level 3 blessing. Moreover, Organizer is ready to give you daily quests.

Continue celebrating! Happy anniversary!
Heroes of

Ogriy
and

Khair
! Celebration of 9th anniversary goes on!
Second day of celebration
will bring you new surprises – don't miss your chance to take part in contests, complete tasks and receive rewards!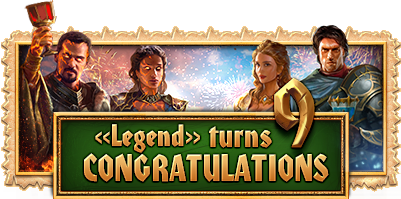 Fedstival Organizer needs your help. Organizer also has a second level blessing for you.

"Legend"'s birthday happens once a year! Don't miss the celebration, join the feast! Happy Birthday!
Brave warriors and beauteous warrioresses!
This great day has come:
«Legend» turns nine!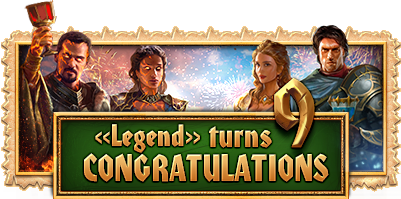 It is a huge term for any game, thus we are glad that we could complete this path together, in battles, completing quests, talking and winning in competitions and having a good time in general.
Thank you for these moments, dear players! Congratulations!
Warrior and warrioresses, we congratulate you on the game's 9th anniversary! Let's celebrate it together!
Warriors
! For a limited time only bankers of the world of Faeo are offering you a
very generous payment bonus
. Purchase

50,

150 or

300 and receive 100% more
in bonus items!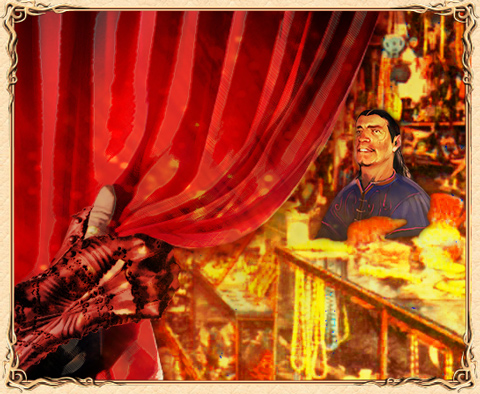 IMPORTANT: You will be able to receive payment bonus one time only!
Bankers' offer will last till Oktober 21st, 23:59:59 Faeo time.
Make sure that you purchase diamonds by that time!
Diamonds – are a very sought-after currency that lets any warrior purchase unique and valuable goods.

Defenders of

Ogriy and

Khair!
From October 11th till October 14th 23:59
, you have a unique opportunity to purchase
Certificate for 5 diamonds
,
Certificate for 10 diamonds
Certificate for 50 diamonds
in the
Premium Shop
. Bankers don't want to sell with a loss and will have a commission from every sale, thus the
cost of each certificate is – 7, 13 and 60 diamonds respectively
. Bankers won't sell more than
50, 25 and 5 certificates in one hands
. City authorities already announced that you would be able to
sell these certificates on Auction and Exchange.
Pay attention!
Power Leveling Thresholds
are not applied when selling diamond certificates:
seller sets a price according to the demand on the item.
Sometimes in order to sell something at a good price,
one has to purchase something at a good price - good luck!
Swirling above disturbed graves and moaning wildly, cemetery ghosts are making promises of dreadful fun for the vile undead, who are gazing at them with their empty eye sockets and stretching their bones after lying still for so long in the damp ground. Skeletons, zombies, bodiless spirits and other representatives of the dark forces will not want to miss a chance to run the show in Faeo and scare its inhabitants during Nightmare Week. The locals however, fearfully await the Night of the Grinning Pumpkin and hope that charms and brave warriors will be able to protect them from the mischief of the undead.