Warriors! Mistress of the Dragons Sheara has decided to enchant your weapons so they won't break in Arena, Crystalline Caves, Temple and Tallaar's Halls!
Queue up for Battlefields starting from now without damage to your armor and weapons till July 6th! Good luck on the battlefields!
Being strangers to fear and fatigue, courageous warriors are fighting on the vast vicinity of the World of Faeo. The life of the defenders of

Ogriy and

Khair is made of glorious victories and defeats, they can accept both success and failure with dignity. But what is the way to highlight best of the best amid many worthy? Warlords of the continents have found a solution. They invite skilled, brave and reckless warriors to participate in «Crossed Swords» tournament!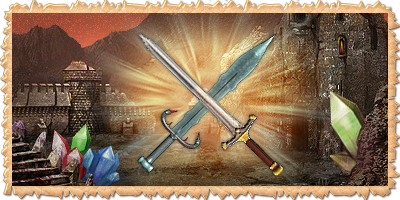 Participate in the battles on the battlefields Arena, Temple and Crystalline Сaves, fight at Plateau of Silence and Ancient Plateau! Become best of the best through victories in battles!
There will be one victor per each level, who will be given a special prize - bracers, corresponding to their level, at the continents special shops will be opened, where warriors who received Crossed Swords tokens for victories in battles, will be able to exchange them for the unique goods.
Take your place at the winners' podium! Participate in the epic tournament!
Warriors
! Mistress of the Dragons
Sheara
has decided to reward

Humans
and

Magmars
and dedicates a special
event
to the
Dragons
, who are always on guard and support the warriors in times of hardship.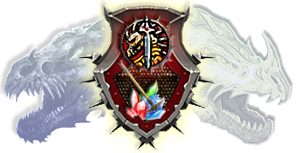 Warriors
! Merchants have put up for sale
Especially Precious
and
Precious Forged Trunks
and cordially invite all of you to purchase these unique goods at
City Fairs
of

Dartrong
and

O'Delvays
!
You can find many usefull things at the bottom of these coffers and trunks: Certificates, Amulets of Summon and War Mage Amulet, Encased Chess Figures, Combat Potions and other valuable goods.
Hurry! Coffers and Trunks will be out of stock soon!
Defenders of Faeo, trust your fate - you won't be disappointed! Buy especially precious trunks and receive valuable and usefull goods! May the contents of the coffers help you on your way to new victories and deeds!
Warriors
! Bankers of

English
,

German
and

Polish
servers have decided to join their forces and offer you something
special
. For a limited time only purchase
Diamonds
and get
15% extra
of the amount you buy!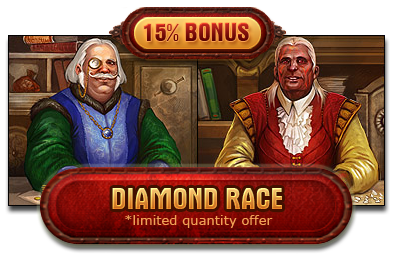 Ships of

Galash
and

Voldemar
, are sailing towards foreign lands.
However their path is full of dangers!
Sea robbers, who would love to have some of the merchants' goods keep attacking their ships.
They won't be able to reach their destination without your help!
In order to help them save their goods, first, you need to detect the location of the ship with the help of magical compass, and then teleport to the battle with the help of magical spell.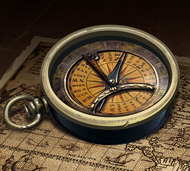 The more victories merchant and his volunteer defenders will have, the more goods he will be able to save and bring to the continent. The more goods Ogriy and Khair will have, the lower the prices will be!
Dont let the pirates steal from the merchants! More victories on the sea - cheaper goods on the land!
Attention! In fights with the captain your armor won't break, after the fights your wounds will be healed and the number of received valor points will be increased.
Warriors! Mistress of the Dragons Sheara has decided to reward the bravest of you with bonus valor for going to the Arena and Crystalline Caves this weekend. She also decided to enchant your weapons so they won't break in Arena, Crystalline Caves, Temple and Tallaar's Halls!
Queue up for Battlefields starting from now without damage to your armor and weapons and receive bonus valor for each fight till June 22nd! Good luck on the battlefields!
At the sight of

Squire Voldemar's
and

Galash the Merchant's
ships, that are getting ready for the trade journey, city tradesmen have decided not to waste time and started
unscheduled sale in the
Premium shops
.
Warriors of Faeo! Only till June 19, 18:00 server time, you have opportunity to purchase various goods at a great price! Tradesmen are offering numerous interesting items.

Premium shop is open to everybody!
Come, choose and purchase rare goods!
Great time has come for those who like making a great deals on the lands of

Ogriy
and

Khair
. Soon both continents will be filled with overseas goods,
the Great Trading Journey has started!


Galash the Merchant
and

Squire Voldemar
are getting their ships ready to sail. Help fill their holds with different gifts of nature from your continent,
and the merchants will reward you generously with their IOUs.
When the travellers are back you will be able to exchange IOUs for the goods they will have brough with them. You haven't seen goods like that before!
Participats of the Trading Journey won't be disappointed! You will be greatly rewarded once the ships will return to the ports!
UPDATE

:
Gnomes will close their Trade Fair on
June 15
at
18:00
. Make sure you purchase everything you need before they go!
Warriors! People are saying that the travelling Gnomes are back again! They were spotted at the City Fairs with their treasures that they are willing to sell to you! Come quick to see what they have got for you! City Fairs are already full of people!