Warriors of Faeo! The cold autumn wind is howling in the streets. Today we want to wish you:
Have a nice day!
23:59 17.10
you'll receive
Have a nice day!
just for
logging into the game!
Have a nice day, warriors!
Warriors! Arbiters of Fate told about the Magical storm, started in «Battle in Caves, year 386», «Clash in the Temple, year 283» and «O'Delvays under Siege» battlegrounds!
Now when you enter the battlefield, you can find four standard sets of equipment in your backpack, rather than the standard three! The new
Archer's Set
will help you shower your enemies with arrows! But that's not all. Each armour style (heavyweight, dodger and bonecrusher) will have a new unique super-blow to complement their unique combat style.
When you log into the game on
Oct 16
and
17
, you will receive an additional Prayerful Call!
In attition, merchants from the Premium Shop can't miss this opportunity: since 17:00 15.10 till 11:00 18.10 there is a sale on Marks of the Arbiters of Fate in the Premium Shop with a 15% discount!
Good luck, warriors! May the Arbiters of Fate bless you!
Warriors!
Replenish your account with

diamonds
and receive rewards that many

Ogriy
and

Khair
inhabitants dream of!
Banks of

Ogriy
and

Khair
value and love their clients, because mutual respect is the foundation on which beneficial to both parties relations are built! Anyone who
trades in diamonds
will have a pleasant surprise...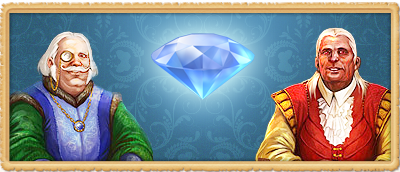 With a
one-time

20
diamonds for

gold
exchange in the bank you will receive an additional reward! Hurry up! After all, bankers can change their minds...
There will be enough gifts for everyone!
Warriors of Faeo! City tradesmen announced the start of yet another sale! You can purchase various goods in the Rare Resources Store for very special price!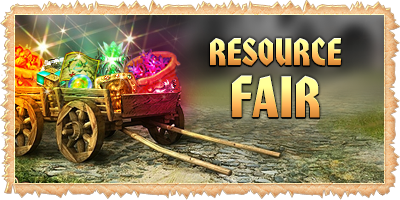 Merchants have decided to drop prices for items that are selling for

diamonds
and you can also now
buy huge packs
of resources
with massive discounts
! In addition, traders will be happy to offer you decorated chests with valuable resources!
And this time - with discounts up to
30%!
Also, till
23:59 17.10
for each
100

diamonds
spent in the the
Rare Resources Store
you will receive an additional 45x
Platinum Thaler
, 2x
Ludial Chain Link
, 1x
Reflection Gem
and
ONE
of the following artifacts:
2
50
50
25
30
1
Have a pleasant shopping!
Erdur Ore
- is a great rarity. Once, almost all the reserves of this mineral were extracted from the bowels of the gnomes, which made it very strong armor. But sometimes the miners manage to find an ancient storehouse, and then a consignment of valuable goods is sent to trusted trading partners. And now Erdur Ore has again appeared on sale!
If you want to make armor according to old gnome recipes, suplement your ore reserves in exchange for various quest resources. To do this, hurry to

Sadok
in the Baurvill Hamlet and

Armak
in the settlement of Faytir, where the shopkeepers have already opened their Ore warehouses.
Also, now you can exchange your PvP-based gear for PvE-based gear, which is needed to create new red weapons and armor! Just check the Artifact Exchange tab.
Keep in mind that this kind of transformation is a bit hard for a merchant, so he will use
Spark of the Heavenly Fires
as a reagent. For example:
Also, you can purchase
Empty Erdur Boxes
, which will allow you to put some
Erdur Ore
into them and give them
to another player
or place into
Auction House
. Keep in mind that
Full Erdur Boxes
can be traded
only once
.
Merchants will leave Feo on 17.10 23:59.
You can buy these goods with
30%
discount!
Do not waste time, warriors, - Erdur Ore is never to much!
Brave warriors, defending the honor of their battle unions in fierce fights!
For several weeks you have been fighting on the five islands: some battles were victorious, others - ended up in your defeat, whatever the result was
each fight was spectacular and important.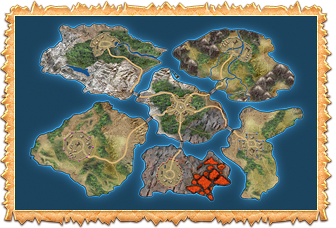 The first stage of the Clan Wars has come to its end, we are ready to
announce the results of the distribution of the clans by the three leagues
.
Four weeks of heroic battles await you! Become the winner of your league!
Dear Warriors!
Over the last few months,

Mentors
have been working on helping players, creating up-to-date guides for upcoming events and working on external knowledge databases, which are constantly being updated with new details and features. In this news you can see what has changed!
Stay tuned for more information from the

Mentors Team!
Another Faeon anniversary will arrive soon!
A lot has happened during those years. Many of you have grown up in Faeo, gained honour and fame, found friends and supporters and some of you have even found love. And how many foes and monsters have been defeated - it's hard to count! It's high time to recall past deeds and, of course, to prepare for new ones.
Especially as our traditional festivities will give you a good chance to distinguish yourselves!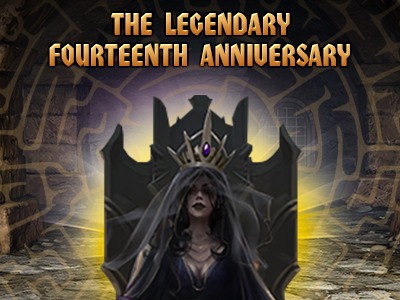 How will the festivities go? What are the challenges for the people of Faeo? What rewards and gifts can you win? Read all about it all in
this news article.
We are very pleased that you like the World of Dragons, and will try to make it even more beautiful.
Dear warriors! All the forecasts of astrologers, prophetic dreams of fortune tellers and visions in crystal balls converge to the same thing:
soon great changes are coming in Faeo.
A major update to the game, which the inhabitants of both continents have long dreamed of, will be released!


What has been added?
First, we list the main improvements. The following will appear in the game:

New Game Events!
New dungeon - Labyrinth
Arena
Gladiator Coins
Punishment for inactivity on the battlefields
The veil was dispelled, the contours of the approaching future became clearer. Now for the details!

Changes are at the doorstep, warriors - the wait is over soon!