Available: from level 7. Absence of God of the Cursed and the Dead reputation.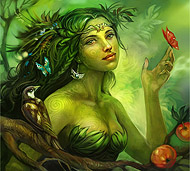 Description:
Aladeya is the goddess of fertility and the harvest and the protector of flora and fauna, she is the defender of the land and the sister of all the elements, which are ready to serve her and help her bring her plans to fruition. The beautiful Aladeya has the gift of prophecy and has a truly peaceful disposition – she wishes only good for every living thing and strives to create harmony.
You can dedicate your life to the Goddess Aladeya by bringing offerings to the
Altar of Life
, which is located at

Berona Ranges
and at the

Canyon of Immortality
.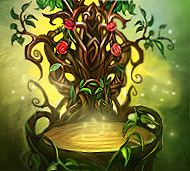 To each of her disciples that bring her a sufficient amount of offerings, the goddess grants
Aladeya's Amulet
, and may also honor her disciple by appearing in combat and helping her ally with her divine power.
| | | |
| --- | --- | --- |
| | Aladeya's Favor | |

| | | |
| --- | --- | --- |
| Reputation | Favor | Effect |
| None | | |
| 500 | | |
| 1000 | | |
| 2000 | | |
| 3000 | | |
| Worship | | |

As an offering, Aladeya will accept various resources from the world of Faeo, and also Idalle.
The greater your offering to the goddess, the higher the chance that you will earn her favor and increase your reputation.
You can also increase your reputation using

Spark of the Heavenly Fires

. You can hand it to the NPC who initiated you to the reputation.

1 spark will give you 150 reputation points.

Attention! Here are the restrictions on getting the reputation:
Absence of God of the Cursed and the Dead reputation from 500 points or higher
Absence of «Deathly Gift» effect oon the character
Goddess Aladeya Pack of Cards: Once a week she will provide her favour, according to the blessing of the Medal of Worship. In addition, Goddess Aladeya Pack of Cards and Medal of Worship provide the opportunity to receive the Life Standard.
Aladeya is in constant conflict with the God of the Cursed and the Dead for the minds and hearts of Magmars and Humans. By bringing offerings to the Altar of Life, you will reduce the reputation you have received from the Altar of Darkness.
The higher your reputation with Aladeya, the more frequently she will visit you in combat and the stronger the effects she will use against your enemies.
| | | |
| --- | --- | --- |
| | Permanent effects of Aladeya | |

| | | |
| --- | --- | --- |
| Reputation | Medal | Permanent effect |
| 500 | | |
| 1000 | | |
| 2000 | | |
| 3000 | | |
| QUEST | | |
Last updated: March 2021