Wise men were always attracted by the mysterious world of reflections, from which we are cut off by the surface of the mirrors. Our doubles and ghostly copies of items are always so close to us and yet so distant! Almost always...

Sometimes heavenly bodies are positioned in a special way, that changes the movement of thin elements and gates to the mirror-world is opened. A special event starts, participate in it and receive unique and valuable rewards.
Attention! Characters under Curse of Captivity, Curse of Rejection and Curse of Admonition cannot take part in the event.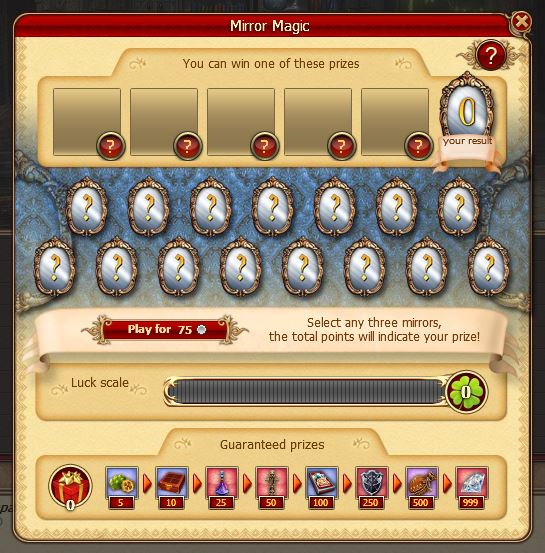 By taking

75 from you, spirits will get the reflections of 5 artifacts, after that they will offer you to chose
3 of 15 mirrors
. Chosen mirrors will get you
1
,
2
or
5
points.
The prize you'll receive depends on the sum of the numbers.
Attention! For each game a unique set of prizes is randomly generated!
Subsidiary prizes increase either your luck (if the luck scale is filled the probability of receiving a rare prize is increased), or counter of guaranteed prizes, which will allow you to get to the most valuable prize faster.
Attention! Each game, whatever the outcome is, increases counter of guaranteed prizes and luck scale by 1.
Attention! Whatever prizes you receive you'll get guaranteed reward. When reaching certain counter threshold, you will receive reward automatically.
Your attempts will bring you not only profit but also respect! New achievements for received guaranteed prizes and reflection gems await you. Please note that reflection gems in guaranteed prizes won't be counted.

When participating in the event, you'll receive
Reflection Gem
s
. In
Exchange tent,
at
City Fair
they will be eagerly bought by local tradesmen, who will give you valuable and unique goods for them.
After the end of the event counter of guaranteed prizes is reset!
Hurry to test your luck warriors! Event «Mirror Magic» doesn't last forever!