Chigrik at Glade of Dreams and

Gloum at Barrow of Sadness are waiting for heroes that want to increase their combat features. For just

30 they are willing to sell an unlimited quantity of Blue Sack to anyone that so desires.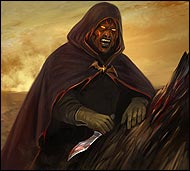 In the bag you can find a random tablet, which will always improve your characteristics, or its fragments:
If you are not lucky enough to find the tablet straight away, do not worry. By collecting the necessary amount of fragments, you can exchange them for a random tablet. The table below shows the number of fragments and types of tablets.
| | |
| --- | --- |
| Number of fragments | Tablets that can be obtained |
| 49 | |
| 64 | |
| 81 | |
| 100 | |






If you have any remaining tablets, you can exchange 9 of the same tablets for 1 random tablet of a higher quality:
Clay

Ceramic

Earthenware

Porcelain
You can find out about the number of bonuses you have already received in Characteristics, in the Ancient Knowledge section.
Important!
- You can only use 1 tablet with each of the bonuses.
For example: If you have already used Clay Strength Tablet, you cannot obtain a second bonus with the same tablet.
- To obtain a bonus from a higher quality tablet, you need to use the previous tablet with similar characteristics first.
- Tablets and tablet fragments can also be traded on the exchange and at auction.