Available from: Level 7
Note! during special events this battlefield is sometimes open to players from level 5
History
This ancient temple was built by a group of apostates for worshipping the great God of Destruction and Guard of the Universe, Tallaar. Responding to the heretical summons and bursting through from the other world, Tallaar's dark will destroyed the naive cultists and took up permanent residence within the temple's walls. Since then, any warrior crossing the threshold is possessed with a thirst for destruction and goes berserk, losing the ability to differentiate between his own and other species, and capable only of thinking how to spill the blood of others.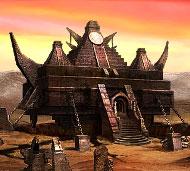 After it became evident that Tallaar's evil will could reach beyond the temple's walls, a group of valiant Destroyers of Chaos set out to enter the accursed building in order to put obstacles in this terrible threat's way. Fighting back with the very last ounce of strength the insane rage that was overcoming them, the heroes have had prepared everything to conduct a sacred ritual that would fend off every kind of evil. Ritual gongs were placed in three halls of the temple. A stroke of these gongs drives Chaos back beyond the frontiers of our world.

After the gongs were in place, the warriors' will faltered and they were no longer able to resist the black sea of rage they were drowning in: word has it that they ripped each other apart with their bare hands. From this day on, only the most courageous warriors dare to cross the temple's threshold to beat the ritual gongs and stem the evil spirit's onslaught. They all know full well that an encounter with other warriors as brave as themselves in the Tallaar's Halls will inevitably result in a ferocious fight. Only the strongest will be able to leave the temple. Anyhow, the people of Faeo can't just stop visiting the temple, for they know: as soon as the gongs remain silent, the God's of Destruction black hand will reach out and plunge the world into an unfathomable Abyss of bloody Chaos.
Rewards
5 participants will receive their reward, depending on the Valour they have earned in the Halls::
| | | |
| --- | --- | --- |
| | Rewards for Tallaar's Halls | |

Group

V

place

IV

place

III

place

II

place

I

place

Exit

Valour

5-6
500
800
1100
1400
1700
-

7-8

530

1000

1330

1660

2130

-

9-10

1060

1530

1860

2200

2660

-

11-12

1860

2330

2660

3000

3460

-

13-14

2930

3400

3730

4060

4530

-

15-16

4530

5000

5330

5660

6130

-

17-18

6090

6560
6890
7220
7680
-
19-20

9900
-

Experience

5-6
100
160
220
270
320
-

7-8

180

250

300

350

420

-

9-10

300

370

420

470

540

-

11-12

480

550

600

650

720

-

13-14

720

790

840

890

960

-

15-16

1080

1150

1200

1250

1320

-

17-18

1470

1540
1590
1640
1710
-
19-20

2230
-

Last update: May 2023