Available: from level 7. Absence of Goddess Aladeya reputation.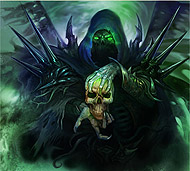 Description:
An ancient god, who was given no name, despised and rejected by all the other heavenly beings from the moment of his birth, he was forced to pay for the sins of his forebears. Brought up on hate and anger, the God of the Cursed and the Dead longs for vengeance and is trying to acquire power by enslaving the souls of the dead. His aim is to plunge the world into darkness for five thousand years and to force his enemies to tremble before his power...
You can dedicate your life to the God of the Cursed and the Dead by bringing gifts to the
Altar of Darkness
, which is located in

Vassals' Tombs
and at

Forgotten Graves
.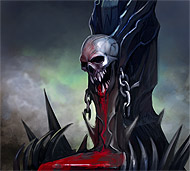 To each of his disciples that bring him a sufficient amount of gifts, the God of the Cursed and the Dead gives
The Cursed and the Dead's Amulet
and may also honor you by appearing in battle and defeating your enemy with a special divine curse.
| | | |
| --- | --- | --- |
| | Deathly Gift | |

| | | |
| --- | --- | --- |
| Reputation | Gift | Effect |
| None | | |
| 500 | | |
| 1000 | | |
| 2000 | | |
| 3000 | | |
| Worship | | |

As an offering, the God of the Cursed and the Dead will accept various resources from the world of Faeo, and also Idalle.
| | | |
| --- | --- | --- |
| | Resources for Offerings | |

Resource

Quantity

Small offering

Medium offering

Large offering

32

159

317

3

15

30

78

389

777

23

115

230

23

115

230

1

6

12

1

5

10
The greater your offering to the god, the higher the chance that you will earn his favor and increase your reputation.
You can increase your reputation using

Spark of the Heavenly Fires

. You can hand it to the NPC who initiated you to the reputation.

1 spark will give you 150 reputation points.

Attention! Here are the restrictions on getting the reputation:
Absence of Goddes Aladeya reputation from 500 points and higher
Absence of «Aladeya's Favor» on the character
God of the Cursed and the Dead Pack of Cards: Once a week he will provide his favour, according to the blessing of the Medal of Worship. In addition, God of the Cursed and the Dead Pack of Cards and the Medal of Worship provide the opportunity to receive Darkness Standard.
The God of the Cursed and the Dead is in constant conflict with the Goddess Aladeya for the minds and hearts of Magmars and Humans. By bringing offerings to the Altar of Darkness, you will reduce the reputation you have received from the Altar of Life.

The higher your reputation with the God of the Cursed and the Dead, the more frequently he will visit you in combat and the stronger the effects he will use against your enemies.
| | | |
| --- | --- | --- |
| | Permanent effects of the cursed and the dead | |

| | | |
| --- | --- | --- |
| Reputation | Medal | Permanent effect |
| 500 | | |
| 1000 | | |
| 2000 | | |
| 3000 | | |
| QUEST | | |
If you have a desire to dedicate your life to the God of the Cursed and the Dead, but you already have Goddess Aladeya's reputation, you will need to bring a one-time offering to the Altar of Darkness:
Last updated: November 2021