Potions masters keep secret recipes for making witchcraft brews. The Mistress of the Dragon is ready to create these most powerful battle elixirs with her own hands for worthy warriors devoted to their peoples!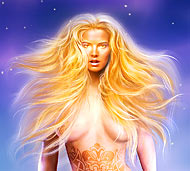 However, rare flowers are needed to make them. You can find these unusual plants either on the battlefields or in the darkest and most secret corners of Faeo . These marvelous seven flowers bloom only at a certain time - during the Seven Wondrous Flowers event!
The event is available to warriors who have reached

level 3

.
To participate in the event, you must take the quest
"Seven Wondrous Flowers"
from

Sheara in the Spectral Expanse
.
Flower
Where to find:
- in the Crystal Caves
- in the Caves of the Past, 386
- in the Sunken Ship
- in the Ancient Temple of the Chosen
- in the Temple of the Past, 283
- in Bogelf's Swamp
- in Chaotic Battles
- in the Crucible of War
- in the Derelict House
- in the Halls of Tallaar
- in the Meridian Vaults
- in the Kretches' Lair
- in the Arena of Underground Knights
- in the Siege of O'Delvays
- in the Abode of Eternal Ice
- on the Plateau of Silence
- on the Ancient Plateau
- on the Plateau of Scorpions
- in Haunted Place
- in the Ships Graveyard
- on the Plateau of Silence

In addition to the wondrous flowers, the Great Sheara will need the blood of the enemy.

From the collected rare ingredients, the Goddess will make one of the magical concoctions to choose from:
If you participate in the event, you will get unique achievements!
Together with the brew, the warrior will receive one of the
Magic Ore
required for the quest
"Sheara's Wondrous Nugget"
.


Picking flowers is not always a carefree walk! But the work is worth the effort, because the reward will be decoctions made by the hand of Sheara herself!

Last updated: October 2022