Runes are magical stones that are embedded in armours and add certain characteristics to them, increasing the character's abilities.
Most runes can be purchased at the Auction or directly from a jeweller, as well as made by yourself (if you have the profession of "Jeweller" of the appropriate level). Other runes can be bought from different stores or acquired during events (you can find more information about how to get runes below).
How to embed the rune in the items? To do this, place the object in your backpack, and then hover the cursor on the rune and click on use. If there is a suitable item in your backpack, a window will appear in which you can choose an item that will have the rune embedded. If the "Confirm" button is pressed, the rune will be embedded in the chosen piece of armour.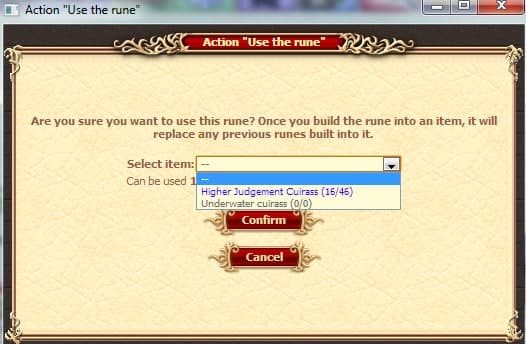 If the rune is embedded successfully, then when you hover the cursor on the item, you will see the corresponding inscription and the modified characteristics of the piece of armour.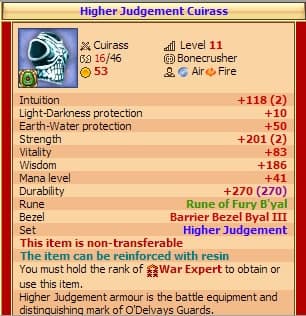 When choosing the rune, you should consider the level and style of your armour. Jewellers can make both green and blue runes, but only the blue ones can be improved by the use of elements.
There are special requirements for embedding blue runes into helmets. These runes, when made by a jeweller, are closed in a special protective shell. To break the shell you will need an Elemental Sphere of the corresponding level. The sphere can be obtained in Elfin Sanctuary.
| | |
| --- | --- |
| Rune level | Sphere |
| 5 | |
| 10 | |
| 15 | |
| 20 | |