Available: From level 7. No restrictions.

Description: The great dragons are superbeings that have been created by Sheara to embody the power of their race. Everyone who wants to can dedicate their life to the great dragon by offering goods to it.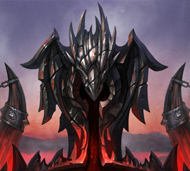 Every player who offers sufficient goods to one of the dragons will receive Great Dragon Amulet. The amulet will significantly increase the chances of being visited and supported at least once during the time of the active bless (after using the amulet).
From having received the Medal of Recognition you also have the chance of being visited randomly by your dragon.

The dragons accept various resources from Faeo as offers.


| | | |
| --- | --- | --- |
| | Resources for Offerings | |

Resource

Quantity

Small offering

Medium offering

Large offering

22

110

219

12

62

123

53

263

526

20

100

200

20

100

200

1

6

12

1

5

10
The more resources your offer to the dragons the higher is the chance that you will get their protection and that your reputation will rise.
You can increase your reputation using

Spark of the Heavenly Fires

. You can hand it to the NPC who ititiated you to the reputation.

1 spark will give you 150 reputation points.

Attention! Here are the restriction on getting the reputation:
You must be level 7 or higher
With an increasing Great dragons Reputation your chances increase that the dragon will help you in battles and the stronger are the effects the dragon will use to help you.
| | | |
| --- | --- | --- |
| | Permanent effects of the Dragons | |

| | | |
| --- | --- | --- |
| Reputation | Medal | Permanent Effect |
| 500 | | |
| 1000 | | |
| 2000 | | |
| 3000 | | |
| QUEST | | |

Last updated: November 2021