The Ancient Temple was built neither by humans nor by Magmars, but was founded by the Chosen. It is a complicated structure inside the rocks, in the central hall of which is the transformer with which the Chosen made magical artifacts.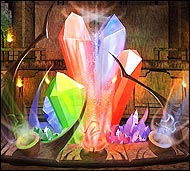 The number of participants in the Ancient Temple is limited to 3 players per team. Therefore, it makes sense to form a group of 3 participants so that everyone can enter the temple at the same time. But of course you are free to register alone without a group.

ORIENTATION
At the beginning, you are in the base of your race. First of all, you should look at the list of comrades and opponents, which you can access by clicking on the "Statistics" button, located to the left of the button for switching the chat channel.

Also, you should immediately switch the chat to the "raid channel" - this will allow you to hear everything that is said by your race in the entire instance, and every player of your race will be able to read your message, no matter where they or you are.

When you are in the instance for the first time, you should open the instance map (in the main menu under Maps).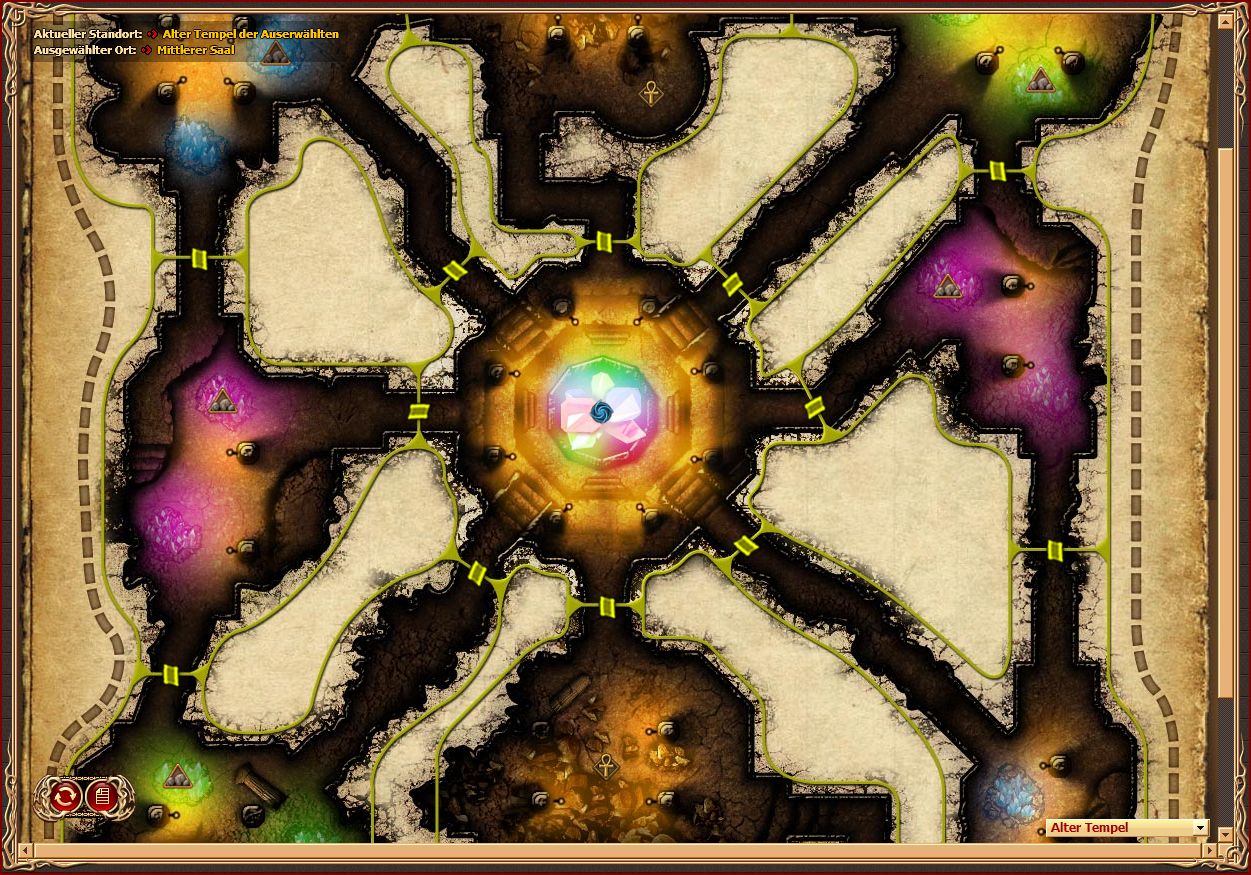 Oben befindet sich der Stützpunkt der Menschen, unten der Stützpunkt der Magmaren. Es gibt von jeder Kristallfarbe zwei Säle, in die sowohl Menschen als auch Magmaren reingehen können. In der Mitte befindet sich ein Umwandler, in dem man die Sphären herstellt.
TARGET
Victory in battle is the most important thing. The team that produces 5 spheres first wins. To achieve this, you should think of an effective tactic, where your team produces the spheres as quickly as possible and at the same time disturbs the opponent to produce spheres in his turn.
To create a sphere, you must have a crystal of each color in your backpack. To do this, you need to collect the crystals in the halls. In the beginning, two crystals of one color grow in each hall. After collecting them, you have to wait for the next ones for a few minutes.

Remember, that you will lose all the already collected crystals from your backpack if you die in battle. It is easier to collect two crystals and then go to the next hall, finally giving them to the altar-transformer (click on the altar accordingly many times). Each assembled sphere falls into the backpack of the maker - regardless of whether the team wins or not (this is important for some quests).

REWARDS
You gain valour and experience with each production and delivery of a sphere (see the table). At the end of the battle you get a reward from valour and experience, the amount depends on whether your team won, lost or if the battle ended in a draw.
| | | |
| --- | --- | --- |
| | Rewards for spheres | |

Group

produce a sphere

give a sphere

Valour

Experience

Valour

Experience

3-4

100

30

60

20

5-6

140

42

84

28

7-8

200

60

120

40

9-10

280

84

168

56

11-12

400

120

240

80

13-14

560

168

336

112

15

800

240

480

160
| | | |
| --- | --- | --- |
| | Rewards for the Ancient Temple of the Chosen | |

Group

Victory

Draw

Defeat

Exit

Valour

Exp.

Valour

Exp.

Valour

Exp.

Valour

3-4

1000

150

500

75

150

-

-1000

5-6

1400

210

700

105

210

-

-1400

7-8

2000

300

1000

150

300

-

-2000

9-10

2800

420

1400

210

420

-

-2800

11-12

4000

600

2000

300

600

-

-4000

13-14

5600

840

2800

420

840

-

-5600

15

8000

1200

4000

600

1200

-

-8000