Also from level 3, you will get nice rewards in helping the little dragon Urchi in his daily challenges. He will reward you with little bags of rewards. Those you can open immediately or waiting for the next tasks in the next days. If so, then every bag will be replaced with another bag of higher value.

Each of these bags can be opened at any time, but do not forget: the more valuable the bag, the greater the reward hidden in it.


Additionally, in every bag you will find a selection of little gifts. If you send these little gifts to another player, his popularity in Faeo will increase. The more valuable the bag, the more gifts you will find.

Grow strong young dragon!

The birth of the tiny dragon Urchi - a miracle that Faeo has not seen yet! Having become friends with this touching creation, it's easy to forget that this little cub is one of the most powerful and huge creatures ever appearing in the rays of Mirrow ...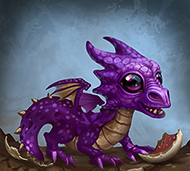 And the dragon is growing up - the egg shell, once serving as his home, has become small. Spreading his wings, Urchi hurries to meet new adventures ... but he, of course, will not leave you!

Warriors! Your friend is gaining strength and studying magic, to one day become equal to the two great dragons that keep this world at the will of Sheara! But as long as he is still far from the peak of power, he will need your help! Absorbing the energy that he receives from various resources, Urchi becomes stronger. And, of course, he will not forget to thank you for your help, presenting the magical objects he created and giving you magic power!

Rewards

| | | | |
| --- | --- | --- | --- |
| Services | Dragon | Achievement | Effect |
| 1 | | | |
| 100 | | | |
| 250 | | | |
| 500 | | | |
| 1000 | | | |

Tasks are available to players who have reached level 6.